Classics: Why It Matters
ISBN: 978-1-5095-1793-0
140 pages
May 2018, Polity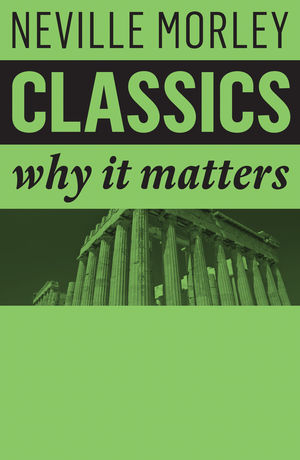 Classics ought to be obsolete. Few today believe that learning Greek and Latin is the best training for the mind, or that the study of classical literature and art produces more cultivated, creative individuals. The claim that classical cultures are the root of modern Western civilisation, far surpassing inferior non-Western societies, has long been repudiated, and is tainted by its association with racism, imperialism and elitism.

And yet Classics survives, not (or not only) as a marker of wealth and privilege but as a forward-looking and even radical discipline. In this incisive book, Neville Morley explores the present and future of the subject. Classics, he argues, is a mongrel that takes ideas from every other field and questions everything, including itself. This broad-minded, critical approach gives us an important new perspective from which to understand the world.

Introducing Polity's Why it Matters series: In these short and lively books, world-leading thinkers make the case for the importance of their subject and aim to inspire a new generation of students.
See More
Neville Morley is Professor of Classics and Ancient History at the University of Exeter. He is the author of nine scholarly and student books.
See More
More in this series