Knowing and Reasoning in College: Gender-Related Patterns in Students' Intellectual Development
ISBN: 978-1-55542-467-1
472 pages
October 1992, Jossey-Bass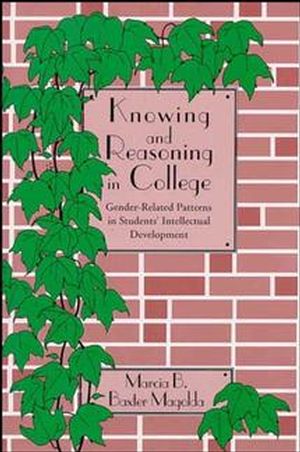 This book shows how ways of knowing change over the course of college and how gAnder influences ways of reasoning. It provides both student affairs professionals and teaching faculty with valuable insights into improving practice in such areas as student organizations, internships, campus employment, instructional approaches, evaluation methods, and more.
See More
UNDERSTANDING GENDER-RELATED PATTERNS IN KNOWING.

Studying Ways of Knowing.

Gender-Related Patterns in Knowing.

Absolute Knowing: Receiving and Mastering Knowledge.

Transitional Knowing: Interpersonal and Impersonal Patterns.

Independent Knowing: Embracing and Subordinating Others' Ideas.

Contextual Knowing: Integrating One's Own and Others' Ideas.

Relating the Patterns to Diverse Student Populations.

IMPLICATIONS FOR ACADEMIC AND STUDENT AFFAIRS.

Teaching Responsively to Different Ways of Knowing.

Developing Students in the Classroom.

Supporting Patterns of Knowing in the Cocurriculum.

Promoting Cocurricular Learning.

Becoming Responsive to Ways of Knowing in Higher Education.

Resources:

A. Context of the Study: Miami University.

B. Design and Methods Used in the Study.

C. Study Interview and Questionnaire.
See More
MARCIA B. BAXTER MAGOLDA is associate professor of educational leadership at Miami University. She received the American College Personnel Association Theory and Research Board Award in 1986 and 1989. The author of many articles on intellectual development and gAnder issues, Baxter Magolda also serves on the editorial board of the Journal of College Student Development.
See More
Learn more about