Educating Professionals: Responding to New Expectations for Competence and Accountability
ISBN: 978-1-55542-523-4
379 pages
April 1993, Jossey-Bass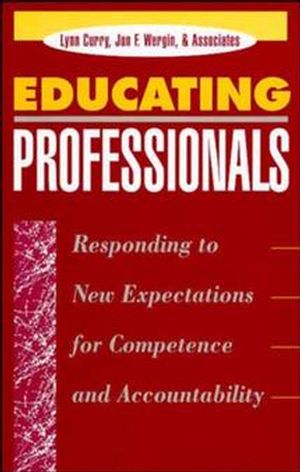 This in-depth examination of how to educate professionals for the future identifies the social and political forces that will affect the roles of professionals and change the definitions of professional skill. It shows how educating professionals for the twenty-first century will ultimately require stronger bonds between educational systems and our systems of practice--including more accurate measures of competence and a more integrated system of continuing professional education.
See More
Part One: TrAnds and Forces Reshaping Professional Practice.
Part Two: Meeting New Requirements Through Professional Education.
Part Three: Professional Education and Practice in Lifelong Partnership.
See More
LYNN CURRY
is principal and founder of Curry Adams & Associates, Inc. She has worked with educators, regulators, and associations of a range of professions, including medicine, nursing, law, social work, and rehabilitation therapies.
JON F. WERGIN is professor of education at Virginia Commonwealth University. From 1989 to 1991 he was vice-president for Division I, Education in the Professions of the American Educational Research Association.
See More
Learn more about