Post-Tenure Faculty Review and Renewal: Experienced Voices
ISBN: 978-1-56377-053-1
October 2004, Jossey-Bass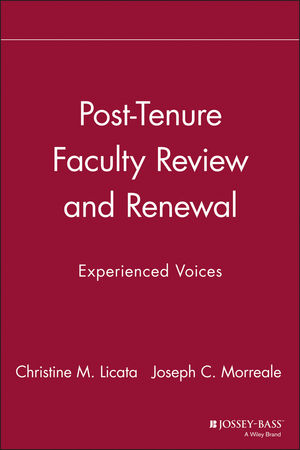 The first of a three-volume series from the American Association for Higher Education's New Pathways Project on review, renewal, and vitality of tenured faculty, this book provides insights into the development, adoption, and implementation of post-tenure review at both individual and state university systems. In a collection of 13 thoughtful essays, this group of "experienced voices"—faculty leaders, senior campus administrators, and system officials—represent examples of the best practices in programs that both work and make sense.
Contents include
Rationale that institutions of various sizes and missions used in establishing tenured-faculty review and development
How such policies were formulated and the factors leading to implementation successes and failures
Important campus lessons learned in moving from policy development to unit implementation
The future of post-tenure review and faculty well-being
See More
Preface.
Acknowledgments.
Introduction.
Section I: System Level Issues and Lessons.
Ahead of Our Time at the End of the Trail?
Post Tenure Review in the Oregon University System (Shirley M. Clark).
Post Tenure Review in Kentucky: A Clash of Cultures (James L. Applegate and Lois M. Nora).
Tracking Evolving Meanings: Five Years of Post-Tenure review in Arizona (S. Vianne McLean and Thomas Callarman).
The View from the Elephant's Tail: Creation and Implementation of Post-Tenure review at the University of Massachusetts (Kate Harrington).
The Benefits of Pilot testing: Post-Tenure Review at California State University, Long Beach (Kelly S. Janousek and Wayne Dick).
Section II: Lessons Learned for Departments, Chairs, and Faculty.
The Evolution of Post-Tenure Review at Indiana University Purdue University Indianapolis (N. Douglas Lees).
The Context as Key to developing and Implementing Post-Tenure review: The University of Nebraska-lincoln Experience (Gail F. Latta and Daniel W. Wheeler).
Balancing Institutional Processes and State-Mandated Post-Tenure review (Betsy E. Brown).
Transforming post-Tenure Review Into Faculty, department head, and Departmental Renewal (Barbara Hornum).
Section III: Lessons Learned from Data Analysis.
Getting Out in Front: Cumulative review and Development for Tenured Faculty. (Ronald J. Henry).
Redesigning Post-Tenure Review to Satisfy Accreditation requirements (Ann S Hunter and Jonathan Lawson).
Post-Tenure Review in Texas: An Evolving Response to the Legislature's Challenge (Debra P. Price, Dennis Longmire, Frank Fair, Laverne Warner, Paul R. Reed, William Fleming, and JoAnn M Duffy).
Learning About Post-Tenure review From Peer Institutions (Susan H. Marr).
Section IV: Reflections on the Future.
Faculty Well-Being review: An Alternative to Post-Tenure review? (Charles J. Walker).
A Profession at Risk: Using Post-Tenure Review to Create an Intentional Future (William M. Plater).
Conclusion.
Moving the Conversation Forward. (Christine M. Licata and Joseph C. Morreale).
Appendix.
AAHE Minigrant Projects, 1998-2000 and 2000-2002.
See More
CHRISTINE M. LICATA
, associate dean for academic affairs at Rochester Institute of Technology/National Technical Institute for the Deaf, is an AAHE senior associate with its New pathways project "Academic Careers for the Next Century: From Inquiry to Practice." In that role, she provides leadership and direction for all activities related to post-tenure review – in particular, coordinating the post-tenure review minigrant program "Projects With Promise" and serving as liaison to the campus/system projects. Licata has investigated post-tenure faculty evaluation practices since 1984, and authored one of the first national reports on the topic: P
ost-Tenure Faculty Evaluation: Threat or Opportunity?
(a 1986 ASHE-ERIC Higher Education Report). During 1998-2001 she worked with the Harvard Project on Faculty Appointments as an adviser and analyst on post-tenure review.
JOSEPH C. MORREALE is a senior associate provost and vice president for planning assessment, and research at pace University and a tenured full professor of public administration specializing in public finance and higher educational administration. As an AAHE senior scholar with the New Pathways project, He has been actively involved in the study on outcomes and impact of post-tenure review policies at nine major institutions. Morreale is coauthor with Licata of Post-Tenure Review: Policies, Practices, Precautions (AAHE New Pathways Working paper #12, 1997) and Post-Tenure Review: A Guide Book for Academic Administrators of Colleges and Schools of Business (AACSB, 1997). He has a chapter on post-tenure review evaluations in Changing Practices in Evaluating Teaching (Anker, 1999), as well as publications on national health insurance and health care economics and energy and environmental economics.
See More
Learn more about