Annals of the New York Academy of Sciences, Volume 1061, Testicular Cell Dynamics and Endocrine Signaling
ISBN: 978-1-57331-538-8
Paperback
256 pages
January 2006, Wiley-Blackwell
US $159.95

Add to Cart
This price is valid for United States. Change location to view local pricing and availability.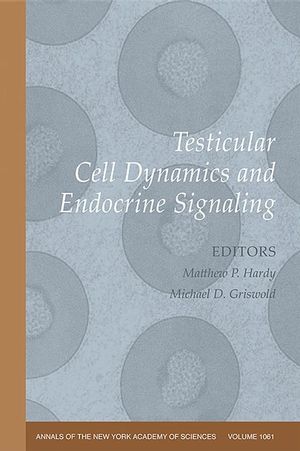 Preface: Matt Hardy and Mike Griswold.
Part I: Development.
1. Hormonal Regulation of Male Reproductive Tract Development. (Sunita Verma-Kurvari, Serge Nef, and Luis F. Parada).
2. Sox9 in Testis Determination. (Akio Kobayashi, Hao Chang, Marie-Christine Chaboissier, Andreas Schedl, and Richard R. Behringer).
3. Seminiferous Cord Formation and Germ-Cell Programming: Epigenetic Transgenerational Actions of Endocrine Disruptors. (Michael K. Skinner and Matthew D. Anway).
4. In Vitro Generation of Germ Cells: New Techniques to Solve Current Issues. (Joshua M. Baughman and Niels Geijsen).
Part II: The Endocrine Axis.
5. Structure-Function Relationships of the Luteinizing Hormone Receptor. (David Puett, Yongsheng Li, Krassimira Angelova, Geneva Demars, Thomas P. Meehan, Francesca Fanelli, and Prema Narayan).
6. Transgenic Rescue of SF-1-Null Mice. (Tatiana Karpova, R. R. M. Maran, Jeremy Presley, Serge P. Scherrer, Lovella Tejada, and Leslie L. Heckert).
7. Estrogens in Testis Biology. (Jayne E. Sierens, Sharon F. Sneddon, Frances Collins, Michael R. Millar, and Philippa T. K. Saunders).
8. Foxa1 and Foxa2 Interact with the Androgen Receptor to Regulate Prostate and Epididymal Genes Differentially. (Xiuping Yu, Aparna Gupta, Yongqing Wang, Kichiya Suzuki, Janni Mirosevich, Marie-Claire Orgebin-Crist, and Robert J. Matusik).
9. Role of Glial Cell Line-Derived Neurotrophic Factor in Germ-Line Stem Cell Fate. (Laura Braydich-Stolle, Courtney Nolan, Martin Dym, and Marie-Claude Hofmann).
Part III: Steroidogenesis.
10. P450 Oxidoreductase Deficiency: A New Disorder of Steroidogenesis. (Walter L. Miller, Ningwu Huang, Amit V. Pandey, Christa E. Flück, and Vishal Agrawal).
11. Neuroendocrine Regulation of Leydig Cell Development. (P. J. O'shaughnessy, P. J. Baker, and H. Johnston).
12. Mitochondrial Function in Leydig Cell Steroidogenesis. (Dale B. Hales, John A. Allen, Tristan Shankara, Paul Janus, Steve Buck, Thorsten Diemer, and Karen Held Hales).
13. Determining Structure and Function of Steroid Dehydrogenase Enzymes by Sequence Analysis, Homology Modeling, and Rational Mutational Analysis. (William L. Duax, James Thomas, Vladimir Pletnev, Anthony Addlagatta, Robert Huether, Lukas Habegger, and Charles M. Weeks).
Part IV: Spermatogenesis.
14. Postnatal and Pubertal Development of the Rhesus Monkey (Macaca mulatta) Testis. (Tony M. Plant, Suresh Ramaswamy, David Simorangkir, and Gary R. Marshall).
15. The mRNA Encoding CstF-64 Is Expressed Ubiquitously in Mouse Tissues. (Zane Huber, Roberto R. Monarez, Brinda Dass, and Clinton C. MacDonald).
16. Drivers of Germ Cell Maturation. (K. L. Loveland, C. Hogarth, S. Mendis, A. Efthymiadis, J. Ly, C. Itman, S. Meachem, C. W. Brown, and D. A. Jans).
17. Role of Nuclear Receptors in INSL3 Gene Transcription in Leydig Cells. (Jacques J. Tremblay and Nicholas M. Robert).
18. Analysis of the Human Sperm Proteome. (Daniel S. Johnston, Joe Wooters, Gregory S. Kopf, Yongchang Qiu, and Kenneth P. Roberts).
Part V: Clinical Correlates.
19. Male Gamete Contributions to the Embryo. (Ryuzo Yanagimachi).
20. The Androgen Microenvironment of the Human Testis and Hormonal Control of Spermatogenesis. (Jonathan P. Jarow and Barry R. Zirkin).
21. Sperm Chemotaxis: A Primer. (E. Hildebrand and U. B. Kaupp).
22. Epigenetic Regulation of Testis-Specific Gene Expression. (John R. McCarrey, Christopher B. Geyer, and Hirotaka Yoshioka).
Index of Contributors.
Buy Both and Save 25%!
Annals of the New York Academy of Sciences, Volume 1061, Testicular Cell Dynamics and Endocrine Signaling (US $159.95)
-and- Neurosciences and Music IV: Learning and Memory (US $130.00)
Total List Price: US $289.95
Discounted Price: US $217.46 (Save: US $72.49)
Cannot be combined with any other offers. Learn more.