The Neurosciences and Music II: From Perception to Performance
ISBN: 978-1-57331-611-8
Paperback
504 pages
April 2006, Wiley-Blackwell
US $154.95

Add to Cart
This price is valid for United States. Change location to view local pricing and availability.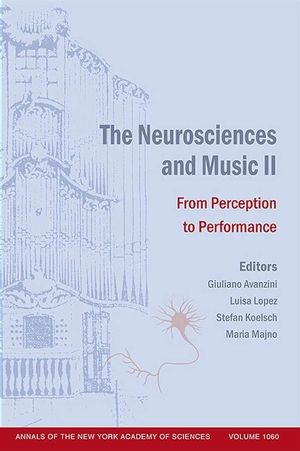 This is a Print-on-Demand title. It will be printed specifically to fill your order. Please allow an additional 2-3 days delivery time. The book is not returnable.
NOTE:
The table of contents presented here is preliminary and based on the original program of the conference from which the volume derives or on information provided by the editors. It is likely to be modified before appearing in its final form in the published volume.
Preface: Giuliano Avanzini, Luisa Lopez, Stefan Koelsch, and Maria Majno.
Part I: Ethology/Evolution: Do Animals Have Music or Something Else?:.
1. Introduction: Krumhansl and Cross.
2. Probing the Evolutionary Origins of Music Perception: Josh McDermott.
3. Between Perception and Performance: Vocal Learning as Key Constraint on the Path to Music and Language: Bjorn Merker.
4. The Biology and Evolution of Music: a Comparative Perspective: W. Tecumseh Fitch.
Part II: Music and Language:.
5. Introduction: Besson and Friederici.
6. Empirical Comparisons of Music and Language: Prosody and Syntax: Aniruddh D. Patel.
7. Music and Linguistic Processing in Singing: Daniele Schön.
Part III: Mental Representations:.
8. Introduction: Avanzini and Schröger.
9. Implicit Investigations of Tonal Knowledge in Non-Musician Listeners: Barbara Tillmann.
10. Cortical Networks That Track Musical Structure: Petr Janata.
11. Anticipatory Musical Imagery and Its Neural Basis: Josef P. Rauschecker.
12. The Neural Substrates of Semantic and Episodic Memory of Music: Hervé Platel.
13. Representation of Pitch in Auditory Cortex: Lesion Effects and Neural Coding: Mark J. Tramo.
14. Aspects of Multisensory Perception: The Integration of Visual and Auditory Information Processing in Musical Experiences: Donald A. Hodges.
Part IV: Developmental Aspects and Impact of Music on Education:.
15. Introduction: Lopez and Trehub.
16. Music Listening, Music Lessons and Cognitive Abilities: Glenn Schellenberg.
17. The Neural Basis of Rhythm and Melody Processing in Young Children, Pre and Post Music Training: Katie Overy.
18. Brain and Cognitive Effects of Learning a Musical Instrument: Gottfried Schlaug.
19. Influences of Musical Training on Neurophysiological Correlates of Music and Speech Perception in Children: Sebastian Jentschke.
20. Temporal Entrainment of Cognitive Functions in Music: Neural Dynamics and Brain Plasticity: Michael H. Thaut.
21. Quantifying Tone Deafness in the General Population: John A. Sloboda and Karen Wise.
Round Table: Music Therapy: the Long Way to Evidence-Based Methods: Pending Issues and Perspectives:.
22. Introduction: Lopez.
23. Scientific Perspectives of Music Therapy: Thomas Hillecke.
24. Outcome Research in Music Therapy: A Step on the Long Road to an Evidence-Based Treatment: Anne K. Nickel.
25. Music Therapy Research in Ibero-American Countries: An Overview Focus on Assessment and Clinical Evaluation: Patricia L. Sabbatella.
26. The Future of Music in Therapy and Medicine: Michael Thaut.
Part V: Neurological Disorders and Music:.
27. Introduction: Griffiths and Altenmueller.
28. Central Auditory Processing in Tune Deaf Subjects: Dennis Drayna.
29. Neuropsychological Assessment of Musical Difficulties: Lola L. Cuddy.
30. Musical Behavior in a Neurogenetic Developmental Disorder: Evidence from Williams Syndrome: Daniel J. Levitin.
31. Perceptual Asymmetries and Cortical Changes after Sensory Motor Retuning in Musicians Suffering from Focal Hand Dystonia: Victor Candia.
Part VI: Music Performance:.
32. Introduction: Minciacchi and McAdams.
33. Sensory-Motor Integration and Disintegration in Music Performance: Eckart Altenmueller.
34. Memory and Movement Preparation in Music Performance: Caroline Palmer.
35. Neural Control of Rhythmic Sequences: Fredrick Ullén.
36. Tuning the Musical Brain: Lauren Stewart.
37. Structural, Functional and Perceptual Differences in the Auditory Cortex of Musicians and Non-Musicians Predict Musical Instrument Preference: Peter Schneider.
Part VII: Emotion in Music:.
38. Introduction: Peretz and Sloboda.
39. Investigating Emotion with Music: and fMRI Study: Stefan Koelsch.
40. Neuropsychological Studies on Music Memory and Musical Preference: Séverine Samson.
41. The Time Course of Emotional Response to Music: Emmanuel Bigand