Stress Responses in Biology and Medicine: Stress of Life in Molecules, Cells, Organisms, and Psychosocial Communities, Volume 1113
ISBN: 978-1-57331-675-0
552 pages
November 2007, Wiley-Blackwell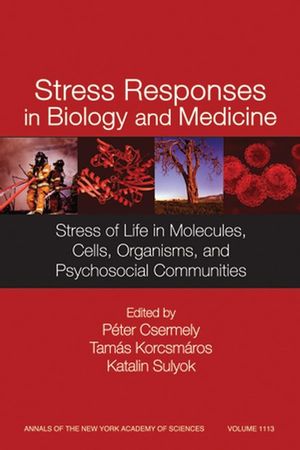 This volume explores the stress concept as Hans Selye originally described it. A variety of approaches to stress research are represented, including molecular stress (stress proteins), stress and cellular functions, stress in plants, stress at the level of the organism, stress in medicine, and psychosocial stress.
Specifically, this volume comprises contributions on heat-shock proteins and their expression, the stress and cellular functions such as stress kinases and genomic stability, plant stress, heavy metal, inflammation, and oxidative stress at the level of the organism, the stress of infections and the immune response, stress and longevity, and psychosocial stress.
The purpose of this approach is to stress the need for understanding the molecular data at the systems level. The variety of research that now exists in this scientific area is truly a legacy of Hans Selye's vision which represented the multidisciplinary view at its best.
NOTE: Annals volumes are available for sale as individual books or as a journal. For information on institutional journal subscriptions, please visit www.blackwellpublishing.com/nyas.
ACADEMY MEMBERS: Please contact the New York Academy of Sciences directly to place your order (www.nyas.org). Members of the New York Academy of Science receive full-text access to the Annals online and discounts on print volumes. Please visit http://www.nyas.org/MemberCenter/Join.aspx for more information about becoming a member
See More
Introduction.

Part I: Stress Proteins: Molecular Stress.

1. New Tricks for an Old Dog: The Evolving World of Hsp70.

2. Heat Shock Factors at a Crossroad between Stress and Development.

3. Extracellular Heat Shock Proteins in Cell Signaling and Immunity.

Part II: Stress and Cellular Functions.

4. Membrane Regulation of the Stress Response from Prokaryotic Models to Mammalian Cells.

5. Temperature Stress: Reacting and Adapting--Lessons from Poikilotherms.

6. Endoplasmic reticulum Stress.

7. Chaperones and Proteases: Guardians of Protein Iintegrity in Eukaryotic Organelles.

8. Oxygen, Hypoxia and Stress.

9. Review on Bacterial Stress Topics.

10. Variation in Stress Responses within a Bacterial Species and the Indirect Costs of Stress Resistance.

Part III: Plant Stress.

11. Molecular Mechanisms of Light Stress of Photosynthesis.

12. The Plant Host-Pathogen Interface: Cell Wall and Membrane Dynamics of Pathogen Induced Responses.

13. Long-Term Acclimation of Plants to Elevated CO2 and Its Interaction with Stresses.

Part IV: Stress at Level of the Organism.

14. Heat Shock Proteins and Protection of the Nervous System.

15. Heavy Metal Ions in Normal Physiology, Toxic Stress and Cytoprotection.

16. Interleukin-1 System in CNS Stress: Seizures, Fever and Neurotrauma.

Part V: Stress in Medicine.

17. Chaperonopathies by Defect, Excess, or Mistake.

18. Heat Shock Proteins in Cancer.

19. Drugging the Cancer Chaperone HSP90: Combinatorial Therapeutic Exploitation of Oncogene Addiction and Tumor Stress.

20. Stress, Heat Shock Proteins, and Autoimmunity: How Immune Responses to Heat Shock Proteins are to be Used for the Control of Chronic Inflammatory Diseases.

21. New Molecular Mechanisms of Duodenal Ulceration.

22. Metabolic Syndrome: Psychosocial, Neuroendocrine and Classical Risk Factors in Type 2 Diabetes.

23. Stress Sensitization in Schizophrenia.

Part VI: Psychosocial Stress.

24. Glucocorticoid Hyper- and Hypofunction: Stress Effects on Cognition and Aggression.

25. Cognitive Activation Theory of Stress, Sensitisation, and Common Health Complaints.

26. The Catecholamine-Cytokine Balance: Interaction between the Brain and the Immune System.

27. Chronic Stress and Social Changes, Socioeconomic Determination of Chronic Stress.

28. Attitude toward Death. Does it Influence Dental Fear?.

29. Stress, Immune Function and Women's Reproduction
See More


Part of the Annals of the New York Academy of Sciences series.

Annals volumes are available for sale as individual books or as a journal. For more information on subscriptions, please visit www.blackwellpublishing.com/nyas.
See More
Buy Both and Save 25%!
Stress Responses in Biology and Medicine: Stress of Life in Molecules, Cells, Organisms, and Psychosocial Communities, Volume 1113 (US $164.95)
-and- The Year in Cognitive Neuroscience 2012, Volume 1251 (US $130.00)
Total List Price: US $294.95
Discounted Price: US $221.21 (Save: US $73.74)
Cannot be combined with any other offers. Learn more.
More in this series