Coccidioidomycosis: Sixth International Symposium, Volume 1111
ISBN: 978-1-57331-688-0
352 pages
October 2007, Wiley-Blackwell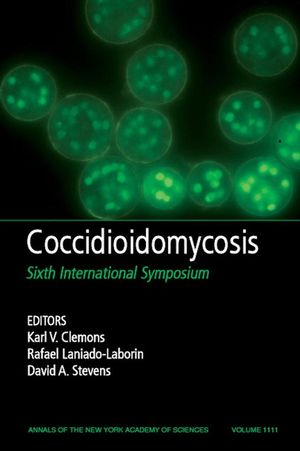 The proceedings of the sixth conference on Coccidioidomycosis presents state of the art overviews of our current understandings of this fungal disease and the causative organism. This is an emerging infectious disease, with cases increasing especially in the Southwest US. The volume should be of interest to medical mycologists, infectious disease especialists, fungal biologists, and immunologists.
NOTE: Annals volumes are available for sale as individual books or as a journal. For information on institutional journal subscriptions, please visit www.blackwellpublishing.com/nyas.
ACADEMY MEMBERS: Please contact the New York Academy of Sciences directly to place your order (www.nyas.org). Members of the New York Academy of Science receive full-text access to the Annals online and discounts on print volumes. Please visit http://www.nyas.org/MemberCenter/Join.aspx for more information about becoming a member
See More
Grand Rounds:
John Galgiani.
Part I: Clinical:.
1. Coccidioidomycosis in the US Military: Nancy Crum-Cianflone.
2. Coccidioidomycosis in an Academic Rheumatology Practice: Janis Blair and Les Mertz.
3. Cocci in Pregnancy: R. Johnson.
4. Cervical Spine Cocci: R. Johnson.
5. Amphoteracin Treatment in Cocci: R. Johnson.
6. Coccidioidomycosis in Organ Transplantation: Janis Blair.
7. State of the Art Therapeutics: Skeletal Coccidioidomycosis: Janis Blair.
8. State of the Art Therapeutics: Skin and Soft Tissue Coccidioidomycosis: Janis Blair.
9. Case Report of a Deep Solitary Brain Mass in a Four Month Old Male with Disseminated Coccidioidomycosis: Jennifer Ward.
10. Compensability of and Legal Issues related to Coccidioidomycosis: LuAnn Haley.
11. The Roentgen Aspects of Cases of Pulmonary Coccidioidomycosis at Kern Medical Center - Comparison with Previous Study Conducted 50 Years Prior: Augustine Munoz.
12. Veterinary Coccidioides: Lisa Shubitz.
Part II: Epidemiology and Public Health:.
13. Modeling the Ecological Niche of Coccidioides sp. in Western North American deserts: Raúl C. Baptista-Rosas.
14. Habitat Parameters of Coccidioides Occurrence sites - A Review and Comments: Frederick S. Fisher.
15. Epidemiological Profile of Coccidioidomycosis in a Predominantly Hispanic Population: Miguel Angel Pena-Ruiz.
16. Coccidioidomycosis Incidence Fluctuations and Unusual Weather in Kern County, California: Is there a Numerically Demonstrable Connection?: Jorge Talamantes.
17. Model Sensitivity for Assessing Climatologic Effects on the Risk of Acquiring Coccidioidomycosis: Andrew Comrie.
Part III: Laboratory Diagnosis:.
18. Diagnosis of Coccidioidomycosis by Culture: Safety Considerations and Traditional Methods: Deanna Sutton.
19. Clinical Laboratory Practices: Michael Saubolle.
Part IV: Vaccines:.
20. The Public Health Need and Present Status of a Vaccine for the Prevention of Coccidioidomycosis: Richard Hector.
21. Dendritic-Cell Based Vaccine against Coccidioides: Shanjana Awasthi.
22. Characteristics of the Coccidioidal 27K Vaccine: Suzanne Johnson.
23. Identification of pH Sensitive Protein in the Cocccidioidal Vaccine T27K: Suzanne Johnson.
Part V: Basic Research:.
24. Isolation and Identification of Coccidioidal Antigens: Suzanne Johnson.
25. Population Genetics in Coccidioides: Bridget Barker.
26. Molecular Cloning and Expression of a cDNA Encoding a Coccidioides Posadasii Mannosidase Protein Identified by Immunoproteomic Analysis of the Coccidioidal T27K Vaccine: Jennine Lunetta.
27. Molecular Cloning and Expression of a cDNA Encoding a Coccidioides Posadasii Superoxide Dismutase Protein Identified by Proteomic Analysis of the Coccidioidal T27K Vaccine: Jennine Lunetta.
28. Nuclear Labeling of Coccidioides Posadasii with GFP: Li Let.
29. Virulence Mechanisms of Coccidioides: Chiung-Yu Hung.
30. The Application of Proteomic Techniques to Fungal Protein Identifications: James Rohrbough
See More
More in this series