Molecular and Biophysical Mechanisms of Arousal, Alertness and Attention
ISBN: 978-1-57331-703-0
400 pages
June 2008, Wiley-Blackwell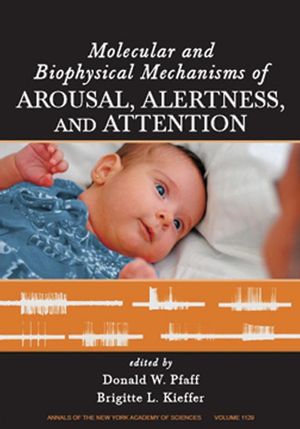 Brain mechanisms for arousal, alertness, and attention underlie all cognitive functions and all emotional expression. This volume discusses the neuroanatomy, neurophysiology, and functional genomics of these states, and the medical consequences of their damage in human patients -- e.g. vegetative states, attention deficit hyperactivity disorder, autism, age-related dementias, mood disorders and sleep disorders. The volume also discusses problems related to vigilance, environmental toxins, fatigue states, circadian rhythms, and sleep/wake physiology, and presents and discusses relevant research techniques, with an emphasis on molecular genetics and on human and animal behavior.
NOTE: Annals volumes are available for sale as individual books or as a journal. For information on institutional journal subscriptions, please visit www.blackwellpublishing.com/nyas.
ACADEMY MEMBERS: Please contact the New York Academy of Sciences directly to place your order (www.nyas.org). Members of the New York Academy of Science receive full-text access to the Annals online and discounts on print volumes. Please visit http://www.nyas.org/MemberCenter/Join.aspx for more information about becoming a member
See More
Preface.

Part I: Elementary Central Nervous System Arousal.

1. Concepts and Mechanisms of Generalized Central Nervous System Arousal.

2. Modulation of Cortical Activation and Behavioral Arousal by Cholinergic and Orexinergic Systems.

3. Dopamine Signaling in the Dorsal Striatum is Essential for Motivated Behaviors.

4. Ablation of the Central Noradrenergic Neurons for Unraveling Their Roles in Stress and Anxiety.

5. Neural Substrates for Sexual Preference and Motivation in the Female and Male Rat.

6. Motivational Influences on the Degree and Direction of Sexual Attraction.

7. Fear Conditioning and LTP in the Amygdala.

8. Insights into the Pharmacological Potential of Estrogens and Phytoestrogens on Catecholamine Signaling.

9. Central Thalamic Contributions to Arousal Regulation and Neurological Disorders of Consciousness.

10. Intrinsic Brain Activity in Altered States of Consciousness.

11. Detecting Awareness in the Vegetative State.

Part II: The Emotion-Cognition Interface.

12. Neural Mechanisms Underlying Selective Attention to Threat.

13. Toward a Neurogenetic Theory of Neuroticism.

14. Gene Expression is Altered in the Lateral Hypothalamus upon Activation of the Mu Opioid Receptor.

15. Bipolar Disorder as Maladaptive Arousal.

Part III: Alertness and Attention.

16. Measuring Alertness.

17. Molecular Genetics of Attention.

18. Anatomical Basis for the Attentional Modulation of Hippocampal Neurons.

19. Cholinergic Mediation of Attention.

20. Neuronal Mechanisms Underlying Attention Deficit Hyperactivity Disorder.

21. Placing Neuroanatomical Models of Executive Function in a Developmental Context.

22. Functional Gene Variation in the Human Norepinephrine Transporter.

Part IV: Circadian Rhythms in the Activation of Behavior.

23. Circadian and Homeostatic Factors in Arousal.

24. Hypothalamic Regulation of Sleep and Arousal.

25. Associations between Sleep Loss and Increased Risk of Obesity and Diabetes.

26. Sleep Deprivation and Vigilant Attention.

27. Sleep and Wakefulness in Drosophila melanogaster.

28. Why does Consciousness Fade in Early Sleep?

29. Molecular Mechanisms of Sleep and Wakefulness.

30. The In(put)s and Out(put)s of the Drosophila Circadian Clock.

31. Peripheral Circadian Oscillators
See More
Buy Both and Save 25%!
Molecular and Biophysical Mechanisms of Arousal, Alertness and Attention (US $144.95)
-and- The Year in Cognitive Neuroscience 2012 (US $130.00)
Total List Price: US $274.95
Discounted Price: US $206.21 (Save: US $68.74)
Cannot be combined with any other offers. Learn more.
More in this series