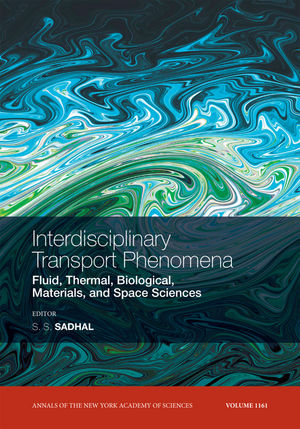 Interdisciplinary Transport Phenomena: Fluid, Thermal, Biological, Materials, and Space Sciences, Volume 1161
Buy this book from:
ISBN: 978-1-57331-712-2
452 pages
May 2009, Wiley-Blackwell
This volume brings together a collection of articles that crosses traditional boundaries of scientific expertise under the common theme of transport phenomena.
Transport phenomena in relation to fluid, thermal, biological, materials, and space sciences are investigated. Chapters include contributions in the following areas: (1) biotransport phenomena and medical applications, including bio-transport phenomena in physiology and medicine, targeted drug delivery, protein crystal growth, and transport in bioporous media; (2) transport processes in materials technology, with chapters on containerless processing, levitation studies, electrostatic and electromagnetic phenomena, diffusion processes, and inorganic crystal growth; (3) space exploration technologies, for example, bio-response in the space environment, combustion and space power systems, boiling phenomena in space, thermal management in space, and water reclamation technologies; (4) interfacial phenomena and phase transitions, including drops, bubbles, particles, phase-change phenomena, surfactants, and complex fluids; and (5) transport phenomena and properties of nanoparticles and aerosols.
NOTE: Annals volumes are available for sale as individual books or as a journal. For information on institutional journal subscriptions, please visit www.blackwellpublishing.com/nyas.
ACADEMY MEMBERS: Please contact the New York Academy of Sciences directly to place your order (www.nyas.org). Members of the New York Academy of Science receive full-text access to the Annals online and discounts on print volumes. Please visit http://www.nyas.org/MemberCenter/Join.aspx for more information about becoming a member.

Interdisciplinary Transport Phenomena: Fluid, Thermal, Biological, Materials, and Space Sciences, Volume 1161
Buy this book from: