MRI and Ultrasound in the Diagnosis and Managementof Rheumatological Diseases, Volume 1154
ISBN: 978-1-57331-736-8
268 pages
March 2009, Wiley-Blackwell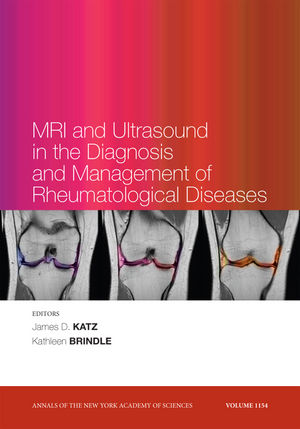 Inflammatory Arthritis may encompass a rapidly destructive disorder of joints with associated systemic manifestations. The advent of disease modifying therapeutics that promise to halt rheumatoid arthritis (RA) disease progression has escalated the clinical importance of early diagnosis and subsequent assessment of remission.  Magnetic Resonance Imaging (MRI) is an advanced imaging technique with the capability to identify RA lesions before such changes become manifest on conventional radiographs. In this manner, MRI may refine the clinician's ability not only to diagnose RA but also to monitor disease over time and consequently more deftly adjust therapy.  This volume provides a systematic and thorough overview on the subject.
NOTE: Annals volumes are available for sale as individual books or as a journal. For information on institutional journal subscriptions, please visit www.blackwellpublishing.com/nyas.
ACADEMY MEMBERS: Please contact the New York Academy of Sciences directly to place your order (www.nyas.org). Members of the New York Academy of Science receive full-text access to the Annals online and discounts on print volumes. Please visit http://www.nyas.org/MemberCenter/Join.aspx for more information about becoming a member.
See More
Preface (
James D. Katz and Kathleen Brindle
).
Part I: Magnetic Resonance Imaging and Ultrasound.
1. Introduction: Inflammatory Arthritis and Myositis (James D. Katz and Geeta Nayyar).
2. Overview of Imaging in Inflammatory Arthritis (James D. Katz, Geeta Nayyar, and Erinn Noeth).
Part II: Magnetic Resonance Imaging.
3. The MRI View of Synovitis and Tenosynovitis in Inflammatory Arthritis: Implications for Diagnosis and Management (Fiona M. McQueen).
4. Bone Marrow Edema (Georg Schett).
5. MRI for Assessing Erosion and Joint Space Narrowing in Inflammatory Arthropathies (Mahnaz Momeni and Kathleen Brindle).
6. MRI in Juvenile Idiopathic Arthritis and Juvenile Dermatomyositis (J. M. Gardner-Medwin, Greg Irwin, and Karl Johnson).
7. A Regional Approach to Foot and Ankle MRI (Michael Sean Stempel).
8. Magnetic Resonance Imaging of the Idiopathic Inflammatory Myopathies: Structural and Clinical Aspects (Rodolfo V. Curiel, Robert Jones, and Kathleen Brindle).
9. Magnetic Resonance Imaging in Degenerative Arthritides: Structural and Clinical Aspects (Jian Zhao and Thomas M. Link).
Part III: Ultrasound.
10. Ultrasound and Structural Changes in Inflammatory Arthritis: Synovitis and Tenosynovitis (Marina Backhaus).
11. Arthrocentesis and Synovial Fluid Analysis in Clinical Practice: Value of Sonography in Difficult Cases (Leonardo Punzi and Francesca Oliviero).
12. Ultrasound in the Inflammatory Myopathies (Marc-André Weber).
13. Ultrasound in the Diagnosis of Noninflammatory Musculoskeletal Conditions (Mandana Hashefi).
Part IV: Research Aspects.
14. Quantifying Disease Activity and Damage by Imaging in Rheumatoid Arthritis and Osteoarthritis (Olga Kubassova, Mikael Boesen, Philipp Peloschek, GeorgLangs, Marco A. Cimmino, Henning Bliddal, and Søren Torp-Pedersen).
15. Complexities of MRI and False Positive Findings (Sanjeev Khanna and John V. Crues, III).
Index of Contributors.
Subject Index.
See More
More in this series