Brain Stimulation in Neurology and Psychiatry: Advances, Opportunities, and Challenges, Volume 1265
ISBN: 978-1-57331-877-8
252 pages
September 2012, Wiley-Blackwell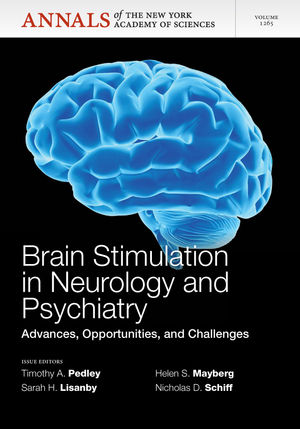 This volume brings together neuroscientists, psychiatrists, neurologists, and ethicists to discuss inter-related advances and challenges emerging in the exciting field of brain stimulation. Discussion focuses on new methodologies that are aimed at bringing direct measurement of brain activity to control electrical brain stimulation techniques. Such direct electrical stimulation techniques offer a novel approach to precisely alter circuit mechanisms in the brain and a promise of temporal precision that may improve clinically relevant effects. A range of electrical stimulation techniques are discussed, with presentation of both clinical research and animal models. Advancing brain stimulation as an investigative therapeutic technique and a science presents several conceptual challenges, ethical question and pragmatic difficulties inherent to the industrial academic collaborations necessary for research with medical devices.
NOTE: Annals volumes are available for sale as individual books or as a journal. For more information on institutional journal subscriptions, please visit: http://ordering.onlinelibrary.wiley.com/subs.asp?ref=1749-6632&doi=10.111/(ISSN)1749-6632.
ACADEMY MEMBERS: Please contact the New York Academy of Sciences directly to place your order (www.nyas.org). Members of the New York Academy of Science receive full-text access to Annals online and discounts on print volumes. Please visit http://www.nyas.org/MemberCenter/Join.aspx for more information about becoming a member.
See More
Brain stimulation in neurology and psychiatry: perspectives on an evolving field vii
Bruce Leuchter, Timothy A. Pedley, Sarah H. Lisanby, Helen S. Mayberg, and Nicholas D. Schiff
Deep brain stimulation for movement and other neurologic disorders 1
Mahlon DeLong and Thomas Wichmann
What brain signals are suitable for feedback control of deep brain stimulation in Parkinson's    disease? 9
Simon Little and Peter Brown
Transcranial magnetic stimulation on the modulation of gamma oscillations in schizophrenia 25
Faranak Farzan. Mera S. Barr, Yinming Sun, Paul B. Fitzgerald, and Zafiris J. Daskalakis
Increasing the validity of experimental models for depression 36
Kafui Dzirasa and Herbert E. Covington, III
Toward a network model of dystonia 46
Claudia M. Hendrix and Jerrold L. Vitek
Moving toward a generalizable application of central thalamic deep brain stimulation for support of forebrain arousal regulation in the severely injured brain 56
Nicholas D. Schiff
The ethics of research on deep brain stimulation for depression: decisional capacity and therapeutic misconception 69
Carl Erik Fisher, Laura B. Dunn, Paul P. Christopher, Paul E. Holtzheimer, Yan Leykin, Helen S. Mayberg, Sarah H. Lisanby, and Paul S Appelbaum
Challenges to deep brain stimulation: a pragmatic response to ethical, fiscal, and regulatory  concerns 80
Joseph J. Fins, Gary S. Dorfman, and Joseph J. Pancrazio
See More
More in this series