Thymosins in Health and Disease II: The Third International Symposium, Volume 1270
ISBN: 978-1-57331-910-2
252 pages
November 2012, Wiley-Blackwell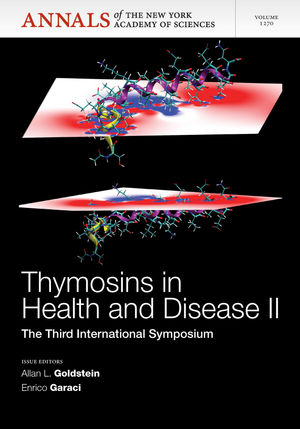 The second of two volumes, Thymosins in Health and Disease II, continues the exploration of the rapidly expanding area of research in thymosins—a family of proteins, with a broad set of biological properties and great clinical potential.  In this volume, papers detail the important therapeutic implications of two thymosins: Thymosin α1 (Tα1) in relation to immunity, infectious diseases, and cancer, and the clinical and preclinical applications of Thymosin (Tβ4) in cardiovascular regeneration and wound healing. In addition, this volume covers some of the most current topics in thymosin research, including nuclear magnetic resonance imaging structural studies of thymosins, thymosin labeling, antibodies in thymosin research, and new methods for thymosin delivery.
NOTE: Annals volumes are available for sale as individual books or as a journal. For more information on institutional journal subscriptions, please visit: http://ordering.onlinelibrary.wiley.com/subs.asp?ref=1749-6632&doi=10.111/(ISSN)1749-6632
ACADEMY MEMBERS: Please contact the New York Academy of Sciences directly to place your order (www.nyas.org). Members of the New York Academy of Science receive full-text access to Annals online and discounts on print volumes. Please visit http://www.nyas.org/MemberCenter/Join.aspx for more information on becoming a member.
See More
Introduction for Thymosins in Health and Disease vii
Allan I. Goldstein and Enrico Garaci
Thymosin α1: immunomodulation, immunopharmacology, infectious diseases, and cancers
Thymosin α1: a novel therapeutic option for patients with refractory chronic purulent rhinosinusitis 1
Virgil A. S. H. Dalm, Harm de Wit and Hemmo A. Drexhage
Thymosin α1: in melanoma: from the clinical trial setting to the daily practice and beyond 8
Riccardo Danielli, Ester Fonsatti, Luana Calabrò, Anna Maria Di Giacomo and Michele Maio
Thymosin α1 as a stimulatory agent of innate cell-mediated immune response 13
Annalucia Serafino, Pasquale Pierimarchi, Francesca Pica, Federica Andreola, Roberta Gaziano, Noemi Moroni, Manuela Zonfrillo, Paola Sinibaldi-Vallebona and Enrico Garaci
Thymosin α1 continues to show promise as an enhancer for vaccine response 21 
Cynthia Tuthill, Israel Rios, Alfonso De Rosa and Roberto Camerini
Clinical and preclinical applications of thymosin β4: wound healing, eye injuries, cardiovascular diseases, and neurological injuries
The use of angiogenic-antimicrobial agents in experimental wounds in animals: problems and solutions 28
Paritosh Suman, Harikrishman Ramachandran, Sossy Sahakian, Kamraan Z. Gill, Basil A. J. Horst, Shanta M. Modak and Mark A. Hardy
The regenerative peptide thymosin β4 accelerates the rate of dermal healing in preclinical animal models and in patients 37
Terry Treadwell, Hynda K. Kleinman, David Crockford, Mark A. Hardy, Georgio T. Guarnera and Allan L. Goldstein
Thymosin β4: a potential novel dry eye therapy 45 
Gabriel Sosne, Ping Qiu, George W. Ousler 3rd, Steven P. Dunn and David Crockford
Neuroprotective and neurorestorative effects of thymosin β4 treatment following experimental traumatic brain injury 51
Ye Xiong, Asim Mahmood, Yuling Meng, Yanlu Zhang, Zheng Gang Zhang, Daniel C. Morris and Michael Chopp
Use of the cardioprotectants thymosin β4 and dexrazoxane during congenial heart surgery: proposal for a randomized, double-blind, clinical trial 59
Daniel Stromberg, Tia Raymond, David Samuel, David Crockford, William Stigall, Steven Leonard, Eric Mendeloff and Andrew Gormley
Cardiac repair with thymosin β4 and cardiac reprogramming factors 66
Deepak Srivastava, Masaki Ieda, Jidong Fu and Li Qian
Late breaking paper session
NMR structural studies of thymosin α1 and β-thymosins 73 
David E. Volk, Cynthia W. Tuthill, Miguel-Angel Elizondo-Riojas and David G. Gorenstein
Fragments of β-thymosin from the sea urchin Paracentrotus lividus as potential antimicrobial peptides against staphylococcal biofilms 79
Domenico Schillaci, Maria Vitale, Maria Grazia Cusimano and Vincenzo Arizza
Development of an analytical HPLC methodology to study the effects of thymosin β4 on actin in sputum of cystic fibrosis patients 86
Mahnaz Badamchain, Ali A. Damavandy and Allan L. Goldstein
The role of biologically active peptides in tissue repair using umbilical cord mesenchymal stem cells 93
Carlos Cabrera, Gabriela Carriquiry, Chiara Pierinelli, Nancy Reinoso, Javier Arias-Stella and Javier Paino
Identification on interaction partners of β-thymosins: applications of thymosin β4 labeled by transglutaminase 98
Christine App, Jana Knop, Hans Georg Mannherz and Ewald Hannappel
Antibodies in research of thymosin β4: investigation of cross-reactivity and influence of fixatives 105
Jana Knop, Christine App and Ewald Hannappel
Thymosin β4 sustained release from poly(lactide-co-glycolide) microspheres: synthesis and implications for treatment of myocardial ischemia 112 
Jeffrey E. Thatcher, Tré Welch, Robert C. Eberhart, Zoltan A. Schelly and J. Michael DiMaio
See More
More in this series