Science of Whitewares
ISBN: 978-1-57498-011-0
439 pages
February 1996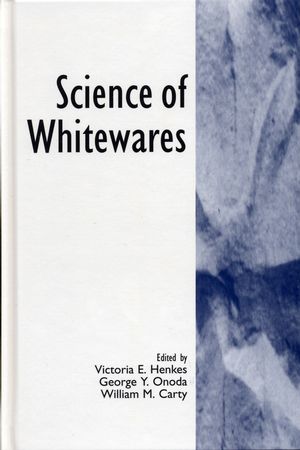 This book addresses issues facing manufacturers, suppliers, and researchers of whitewares around the world. Discussed as solutions that will increase productivity are traditional ceramic manufacturing problems from the perspective of applying recent advances in technology.
See More
Introduction.
Historical Perspective on Whiteware Science (J.E. Funk and D.R. Dinger).

Characterization.
The Methylene Blue Index for Whiteware Body Control (J.E. Funk and D.R. Dinger).
Limits in Particle Size Characterization (H. Giesche).
Cathodoluminescence Properties of Refractory Raw Materials and Products (M. Karakus and R.E. Moore).

Rheology and Plasticity.
Concentrated Kaolinite Suspensions: Polymer Adsorption and Rheological Properties (L. Bergström, M. Sjöberg and L. Järnström).
Mechanisms of Plasticity in Clay-Water Systems (G.Y. Onoda).
The Characterization of Plasticity (W.M. Carty and C. Lee).

Forming.
Influences of Particle Size Distributions on Whitewares Properties and Processing (D.R. Dinger).
Regulating Density Gradients in Slip Consolidation: A New Methodology (C.H. Schilling, S.P. Huss and J.N. Gray).
Applications of Granular Mechanics to Slip Casting, Filter Pressing, and Drying (B.J. Kellett and D. Znidarcic).
Advanced Organic Binder Systems for Whitewares (D.J. Shanefield).
Mechanics of Extrusion (J.S. Reed, T.J. Martin and W.G. Carlson).
Advances in Spray-Dried Powder Processing for Tile Manufacture (F. Negre and E. Sánchez).
Solid Free Form Fabrication Methods and Ceramic Components (M.J. Cima).

Drying and Firing.
Fundamentals of Drying and Shrinkage (G.W. Scherer).
Recent Innovations in the Fast Firing Process (T. Manfredini and L. Pennisi).
Pyroplastic Deformation of Whiteware Bodies (A.C. Airey and J.F. Birtles).
Time, Temperature, and Atmosphere Effects on Firing (J.R. Schorr and D.A. Fronk).
Designing Firing Schedules with Thermal Analysis (G.C. Robinson).
Advanced Manufacturing of Fast Fired Whiteware Bodies via Dynamic Characterization (S. Dattaguru and R.L. Snyder).

Mechanical Properties.
Thermal Shock of Triaxial Porcelains (R.E. Moore).
Fracture Mechanics: Applications for Whitewares (S.W. Freiman).
Fractography of Whitewares (J.R. Varner and V.D. Frechette).
Calculation of Thermal Stresses in Whiteware Bodies via Finite Element Analysis (D.N. Henshall, W.B. Carlson and J.M. Frommelt).
Sonic Methods for Flaw Detection (D.A. Pape).

Glazing.
Glaze Problems from a Glass Science Perspective (W.C. LaCourse and W. Mason).
Evolution of Ceramic Tile Glazes (J.E. Enrique, J.L. Amorós and A. Moreno).
Modern Methods of Glaze Characterization (H. Mörtel).
Colors, Pigments, and Decoration (P.R. Jackson).
Acid Corrosion Behavior of Lead-Containing Silicate Glasses: Scientific Basis and International Standards (R.L. Lehman).

Banquet Guest Lecture.
The Gift of Process and the Responsibility of Civilization (J. Gill).
See More