The Angel Investor's Handbook: How to Profit from Early-Stage Investing
ISBN: 978-1-57660-076-4
351 pages
July 2001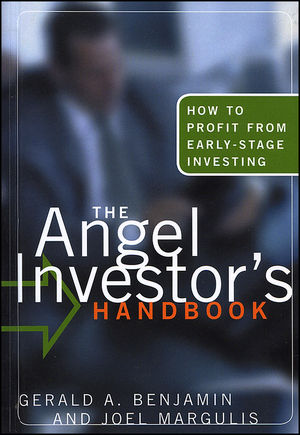 Many of today's high-net-worth investors are turning their attention to early-stage investing in emerging companies. They know just how successful and lucrative funding a start-up venture can be. Savvy angel investors can foresee distant but potentially huge returns from pre-IPO companies. There are scores of hungry entrepreneurs in search of capital and lots of money to be invested. But, matching the right entrepreneurs with wise investors, so that both can profit, is the challenge in new enterprises.
Gerald Benjamin and Joel Margulis demonstrate that the real pitfall for potential investors is an incomplete understanding of the complexities of early-stage investing. At the same time, the angel capital market offers few mechanisms for bringing investors and entrepreneurs together, while securities regulations restrict communication between sophisticated investors and promising new businesses.
So, where do the uninitiated start, and how do they separate the wheat from the chaff? In this ground breaking work, Benjamin and Margulis offer angel investors a hands-on manual for profiting from early-stage, private equity deals. They show how to develop investment criteria and overall game plans, locate viable investment opportunities, assess and manage risks, negotiate the most favorable deal terms, conduct thorough due diligence, and plan the all-important exit strategy.
See More
Acknowledgments.
Preface.
Introduction.
Chapter 1 An Overview of the Angel Capital Market.
Chapter 2 Key Factors in Successful Angel Investing.
Chapter 3 Understanding and Managing Risk.
Chapter 4 Types of Angel Investment Strategies.
Chapter 5 Deal-Flow Development: Surfacing Angel Investment Opportunities.
Chapter 6 Managing the Due Diligence Process.
Chapter 7 The Preinvestment Audit.
Chapter 8 Negotiating and Structuring the Deal.
Chapter 9 Valuation of the Early-Stage Company.
Chapter 10 Overseeing and Advising Postinvestment.
Chapter 11 Harvesting Returns: Exit Routes to Liquidity.
Conclusion.
Appendix A: Internet Directory.
Appendix B: Angel Investing Conference/Forum Directory.
Appendix C: A Model Term Sheet.
Appendix D: Valuation Case Study.
Appendix E: Hypothetical Valuation Example.
Appendix F: Frequently Asked Questions.
Appendix G: Suggested Reading List.
Appendix H: Supplementary Reading.
Appendix I: Glossary.
Index.
See More
GERALD A. BENJAMIN
, MS, is Senior Managing Partner of International Capital Resources (ICR) in San Francisco, and is recognized by entrepreneurs, investors, venture organizations, and academic entrepreneurial finance programs as one of the nation's leading authorities on the angel capital market. Over 50,000 entrepreneurs have attended Benjamin's seminar, "Angel Financing: How to Raise Private Equity for the Early-Stage Venture," which has been sponsored and presented by over 200 prominent entrepreneurial and investor organizations in the United States. His research in the field has been covered by the Wall Street Journal, Time, Barron's, Investor's Business Daily, and many other publications. Benjamin received his BA and MS degrees from the University of San Francisco.
JOEL B. MARGULIS is a member of the English Department at San Francisco State University and has authored and coauthored a number of books on a variety of subjects. He received his BA in history and MA in English from the University of Missouri-Columbia.
Margulis is a freelance writer who has published books and articles on a range of business and finance topics.
See More
More in this series