The New Yorker Book of New York Cartoons
ISBN: 978-1-57660-128-0
112 pages
May 2004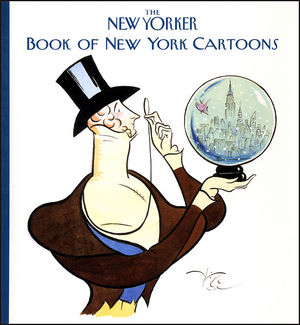 Here, in one hundred cartoons spanning eight decades, the cartoonists of The New Yorker brilliantly and hilariously illuminate both the reality of New York and the city of our imaginations. This collection captures the amazing melting pot of cultures, ideas, and emotions that makes New York unique in the minds of people across the nation and around the world.

With contributions from George Booth, Roz Chast, Lee Lorenz, Arnie Levin, George Price, Mick Stevens, Robert Weber, and other great artists, these cartoons pay tribute to the spirit New York's residents and visitors rely on to coexist with both its demands and its greatness.
See More
INDEX OF ARTISTS.
Marisa Acocella.
Charles Addams.
Perry Barlow.
George Booth.
Roz Chast.
Tom Cheney.
Richard Cline.
Leo Cullum.
Robert J. Day.
Leonard Dove.
Alan Dunn.
Joseph Farris.
Ed Frascino.
Mort Gerberg.
Alex Gregory.
Sam Gross.
William Hamilton.
J. B. Handelsman.
Sidney Harris.
Stan Hunt.
Bruce Eric Kaplan.
Tom Kleh.
I. Klein.
Edward Koren.
Stuart Leeds.
Arnie Levin.
Lee Lorenz.
Kenneth Mahood.
Robert Mankoff.
Charles E. Martin.
Henry Martin.
Warren Miller.
Frank Modell.
James Mulligan.
Lou Myers.
C. E. O'Glass.
David Pascal.
Garrett Price.
George Price.
Donald Reilly.
Mischa Richter.
J. P. Rini.
Victoria Roberts.
Ronald Searle.
Danny Shanahan.
David Sipress.
Peter Steiner.
Mick Stevens.
James Stevenson.
Barney Tobey.
Robert Weber.
Gahan Wilson.
See More
Robert Mankoff has published cartoons in The New Yorker since 1974. He is also cartoon editor of The New Yorker, founder and president of The Cartoon Bank, and the editor of numerous New Yorker cartoon collections, most recently The New Yorker Book of Baseball Cartoons. Bob was born and bred in New York and wouldn't have it any other way.
See More