The New Yorker Book of Art Cartoons
ISBN: 978-1-57660-129-7
128 pages
August 2005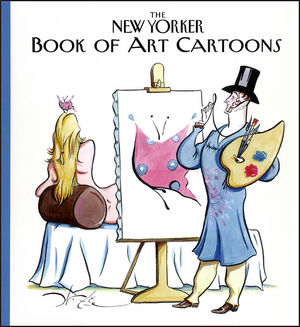 Great art has an enduring place in our hearts and society because it says something about who we are. And that's what makes these cartoons about art, the artistic life, and our responses to them so much fun. The themes are timeless: Is it noteworthy? What is the artist trying to say? Why did he paint a soup can?
The New Yorker's cartoonists have found endless humor in their fellow artists and in the art-loving public (as well as those who are dragged along to exhibits). The subjects of their wry wit range from the famous heavy hitters of art history to amateur strivers, and from swank museum shows to lonely artists at the easel, searching for a muse.
With more than one hundred cartoons, this collection is a masterpiece bound to amuse fans and friends of art and artists.
See More
INDEX OF ARTISTS.
Charles Addams.
Perry Barlow.
Charles Barsotti.
Mike Berry.
Harry Bliss.
Roz Chast.
Frank Cotham.
Michael Crawford.
Leo Cullum.
Whitney Darrow Jr.
Chon Day.
Robert J. Day.
Eldon Dedini.
Alan Dunn.
Ed Fisher.
Dana Fradon.
Alex Gregory.
Sam Gross.
William Hamilton.
J.B. Handelsman.
Helen E. Hokinson.
Stan Hunt.
Edward Koren.
Anatol Kovarsky.
Robert Kraus.
David Langdon.
Eric Lewis.
Lee Lorenz.
Cliff C. Lozell.
Robert Mankoff.
Warren Miller.
Frank Modell.
John O'Brien.
Richard Oldden.
Everett Opie.
Peter Porges.
Garrett Price.
George Price.
Gardner Rea.
Mischa Richter.
J.P. Rini.
Al Ross.
Charles Saxon.
L.H. Siggs.
David Sipress.
Claude Smith.
William Steig.
Saul Steinberg.
Mick Stevens.
James Stevenson.
Richard Taylor.
Eric Teitelbaum.
Barney Tobey.
Mike Twohy.
P.C. Vey.
Dean Vietor.
Robert Weber.
Christopher Weyant.
Gahan Wilson.
Jack Ziegler.
See More
Robert Mankoff, the editor of this and many other collections of New Yorker cartoons, has had cartoons published in The New Yorker since 1974. He is founder and president of The Cartoon Bank and is the cartoon editor of The New Yorker.
See More