The Investment Think Tank: Theory, Strategy, and Practice for Advisers
ISBN: 978-1-57660-165-5
Hardcover
432 pages
November 2004
US $55.00

Add to Cart
This price is valid for United States. Change location to view local pricing and availability.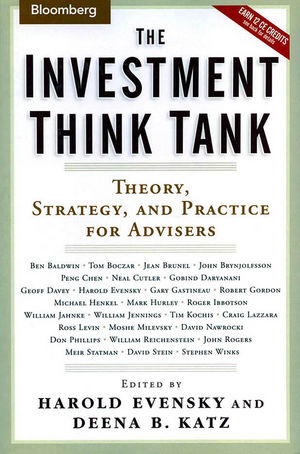 The best investment practitioners, the ones who get results, rely not just on their instincts and experience but on the insights of the trailblazers in their field—the people who interpret, challenge, and even devise the strategies and tools that shape investment management. But when you're in the trenches—serving clients and running a business—the voices at the front can have trouble getting through, and you may sometimes wonder if your methods are as current as your clients deserve.
Strategies continue to be explored, and tactics can change almost as quickly as the markets. What's the story behind Peter Bernstein's challenge to a fixed-asset-allocation mix? Did the financial-planning community take a wrong ideological turn in espousing it? What can behavioral finance tell you about serving your clients? What choices can you make to ensure tax efficiency in your clients' portfolios? Downside risk measures have come a long way since Markowitz brought them so much attention. But when's the last time you checked into your reward-to-semivariability ratios? How current is your understanding of the core-and-satellite approach to portfolio design? And how much do you know about putting one in place for your client?
To get some answers to these and other questions, financial advisers Harold Evensky and Deena B. Katz invited some of the best minds in investment management to share their best thinking. The result is a gathering of eagles that will challenge your beliefs, reinforce your convictions, pique your curiosity, and maybe even improve some of those tried-and-true practices you put in place too long ago.
So sit in on this remarkable think tank. Treat yourself to a compelling array of ideas—from the doggedly practical to the delightfully abstract—that will inform and stimulate your own thinking and reawaken the reasons you came to investment management in the first place.