The New Yorker Book of Technology Cartoons
ISBN: 978-1-57660-313-0
128 pages
December 2007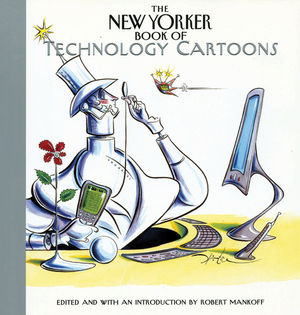 Technology—friend or foe? That's a question the brilliant cartoonists of The New Yorker have been pondering with no little skepticism—and answering hilariously-for decades. This is not because of a fascination with technology itself, but because technology has, more and more, inserted itself into our everyday lives-in ways delightful to some and surreal to others. Whichever way you feel at any given moment, these cartoons help you laugh at technology toys, trends, trials, and tribulations.

Robert Mankoff, the cartoon editor of The New Yorker, who has a self-proclaimed love-hate relationship with technology, assembled a one-of-a-kind introduction (to say wrote wouldn't do it full justice) and selected 110 of the best cartoons ever done on technology and its effects on us all.
See More
INDEX OF ARTISTS.

Marisa Acocella.
Charles Addams.
Charles Barsotti.
George Booth.
John Caldwell.
Roz Chast.
Tom Cheney.
Richard Cline.
Frank Cotham.
Michael Crawford.
Leo Cullum.
J.C. Duffy.
Ed Fisher.
Mort Gerberg.
Alex Gregory.
Sam Gross.
William Haefeli.
William Hamilton.
J.B. Handelsman.
Sidney Harris.
Bruce Eric Kaplan.
Edward Koren.
Arnie Levin.
Lee Lorenz.
Robert Mankoff.
Michael Maslin.
Warren Miller.
John O'Brien.
Donald Reilly.
Mischa Richter.
Victoria Roberts.
Al Ross.
Bernard Schoenbaum.
Danny Shanahan.
David Sipress.
Barbara Smaller.
Peter Steiner.
Mick Stevens.
James Stevenson.
Mike Twohy.
P.C. Vey.
Dean Vietor.
Robert Weber.
Gahan Wilson.
Jack Ziegler.
See More
The New Yorker has no equal in the world of cartooning. Robert Mankoff is the cartoon editor at The New Yorker, president and founder of The Cartoon Bank, and a very successful cartoonist in his own right. He is the editor of eight collections of New Yorker cartoons.
See More