The Cul-de-Sac Syndrome: Turning Around the Unsustainable American Dream
ISBN: 978-1-57660-320-8
207 pages
June 2009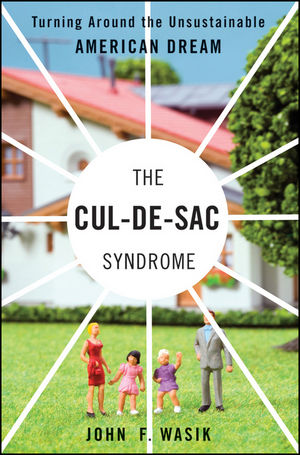 An incisive look at the consequences of today's costly and damaging suburban lifestyle
In The Cul-de-Sac Syndrome, Bloomberg News' John Wasik exposes the economic, cultural, environmental, and health problems underlying life in suburbia. Wasik provides powerful insights into how the U.S. suburban lifestyle has become unsustainable and what can be done to salvage it. His observations are firmly grounded in exclusive on-the-ground research, interviews with thought leaders, and the latest studies and statistics. The book

Exposes the untold truths about suburban home ownership: green isn't always so green, life isn't cheaper after accounting for gas, water, and taxes, and modern suburban living isn't so idyllic considering the toll it takes on our health
Includes exclusive research and analysis by experts in the field that debunks the many myths associated with suburban living
Explores innovative solutions being developed in cities across the country
The American Dream of moving further from a city to buy a bigger house and find better schools has become a costly nightmare. The Cul-de-Sac Syndrome examines why and what can be done.
See More
Preface xi
Introduction: The Foundation Cracks 1
PART 1 A Dream Gone Bad 15
1 False Economics: American Dreamers in the Sunshine State 17
2 Origins of a Dream 27
3 How Debt Addiction Fed a Housing Crisis 39
4 Cul-de-Sac Nation: Symptoms of a Syndrome 55
5 The Spurbing of National Health 67
PART 2 Reinventing Home and Community 75
6 Toward Sustainable Dreams 77
7 Building Smarter 93
8 The Near Death of a Suburb 111
9 Reclaiming the Inner City 123
10 Sustainability and Development: Bridging the Gap 139
11 The Bill Comes Due: Which Places Will Prosper? 153
Epilogue: Cleaning Up, Moving On 171
Notes 175
Index 194
See More
John Wasik is a financial columnist for Bloomberg News and the author of several books. His book The Merchant of Power was praised by Studs Terkel and well reviewed by the New York Times. Wasik has won more than fifteen journalism awards, including several from the National Press Club. He has appeared on such national media as NBC, NPR, and PBS. He lives in Chicago.
See More