Making Sense of the Dollar: Exposing Dangerous Myths about Trade and Foreign Exchange
ISBN: 978-1-57660-321-5
240 pages
August 2009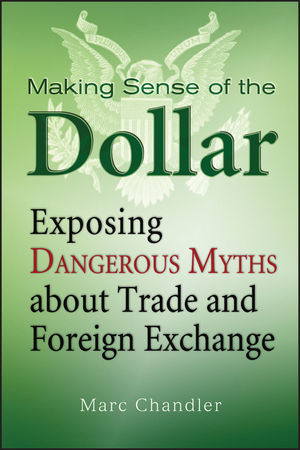 Has the greenback really lost its preeminent place in the world? Not according to currency expert Marc Chandler, who explains why so many are—wrongly—pessimistic about both the dollar and the U.S. economy.  

Making Sense of the Dollar explores the many factors—trade deficits, the dollar's role in the world, globalization, capitalism, and more—that affect the dollar and the U.S. economy and lead to the inescapable conclusion that both are much stronger than many people suppose.  

Marc Chandler has been covering the global capital markets for twenty years as a foreign exchange strategist for several Wall Street firms. He is one of the most widely respected and quoted currency experts today.
See More
Acknowledgments.
Introduction.
1 Myth 1: The Trade Deficit Reflects U.S. Competitiveness.
2 Myth 2: The Current Account Deficit Drives the Dollar.
3 Myth 3: You Can't Have Too Much Money.
4 Myth 4: Labor Market Flexibility Is the Key to U.S. Economic Prowess.
5 Myth 5: There Is One Type of Capitalism.
6 Myth 6: The Dollar's Privileged Place in the World Is Lost.
7 Myth 7: Globalization Destroyed American Industry.
8 Myth 8: U.S. Capitalist Development Prevents Socialism.
9 Myth 9: The Weak U.S. Dollar Boosts Exports and Drives Stock Markets.
10 Myth 10: The Foreign Exchange Market Is Strange and Speculative.
11 Summary and Some Thoughts on the Way Forward.
Bibliography.
Index.
See More
Marc Chandler joined Brown Brothers Harriman in October 2005 as the global head of currency strategy. Previously he was the chief currency strategist for HSBC Bank USA and Mellon Bank.
Marc is a prolific writer and speaker. In addition to being frequently called upon by newspapers and news wires to provide insight into the developments of the day, Chandler's essays have been published in the Financial Times, Barron's, Euromoney, Corporate Finance, and Foreign Affairs. He is also the contributing economic editor for Active Trader Magazine and to TheStreet.com. Marc appears often on business television and is a regular guest on CNBC. He frequently presents to business groups and investors.
His current research projects include global imbalances, Islamic finance, and the relationship between savings, investment and growth.
Marc has been analyzing, writing and talking about the foreign exchange market for more than 20 years. He holds a Master's degree in American history (1982) from Northern Illinois University and a Master's in International Political Economy from the University of Pittsburgh (1984). He has taught classes on International Political Economy at New York University since the early 1990s, where Marc is an associate professor.
See More