The Issuer's Guide to PIPEs: New Markets, Deal Structures, and Global Opportunities for Private Investments in Public Equity
ISBN: 978-1-57660-344-4
Hardcover
352 pages
December 2009
US $79.95

Add to Cart
This price is valid for United States. Change location to view local pricing and availability.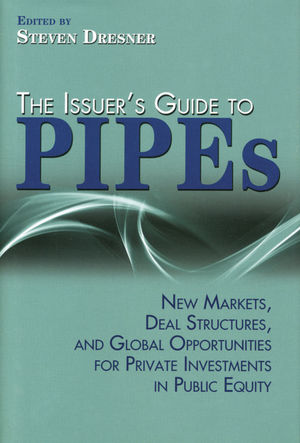 Other Available Formats:
E-book
Introduction (Steven Dresner, DealFlow Media, Brad Ackerman, Hull Capital).  

PART ONE. STATE OF THE MARKET.
 
1 PIPEs and Registered Directs (Richard E. Gormley, Lazard Frères & Co).
 
2 PIPE Market Statistics (David Lee, PrivateRaise, a DealFlow Media Service).  

3 International PIPEs: Private Placements by Australian Securities Exchange-Listed Companies (Eugene Tablis, KTA Capital).  

4 International PIPEs: Rules, Regulations, and an Overview of the Capital Markets in the United Kingdom (Douglas Rofè and Sarah Hooker, Reed Smith).
 
5 Developing Aftermarket Support and Liquidity (Crocker Coulson, CCG Investor Relations).  

PART TWO.  LEGAL AND ACCOUNTING ISSUES.
 
6 Legal and Regulatory Overview (Eleazer N. Klein, Schulte Roth & Zabel).  

7 Listing Considerations (Christopher Auguste, Alexander Freedman, and Antonia Lee, Kramer Levin Naftalis & Frankel).
 
8 Registration Issues (Jack Hogoboom, Lowenstein Sandler).
 
9 Valuation of PIPEs (Espen Robak, Pluris Valuation Advisors).

10 Placement Agent Agreements (Darren L. Ofsink, Esq., D. Reeves Carter, Esq., Matthew A. Pek, Esq., Guzov Ofsink).  

PART THREE.  ALTERNATIVE DEAL STRUCTURES.

11 Registered Directs (Susanne Mulligan, Deutsche Bank).
 
12 Common-Stock Transactions (Edmund P. Chiang).
 
13 Structured PIPEs (Mark Wood, Ziemowit T. Smulkowski, Katten Muchin Rosenman, Todd M. Scherrer, Szymkowiak & Associates, CPAs).
 
14 Equity Lines of Credit (David J. Fine, Kristin M. Hespos, Yorkville Advisors).  

PART FOUR.  Alternative Deal Structures.
 
15 Shell Mergers and SPACs (Meghan Leerskov, DealFlow Media).
 
16 Reverse Mergers (David N. Feldman, Feldman LLP).  

17 Anatomy of a Chinese APO (Louis A. Bevilacqua, Thomas M. Shoesmith, Joseph R. Tiano, Jr., Pillsbury Winthrop Shaw Pittman).  

Afterword (Michael Vasinkevich, Rodman and Renshaw).

Glossary.
Index.