Trading Between the Lines: Pattern Recognition and Visualization of Markets
ISBN: 978-1-57660-373-4
222 pages
March 2011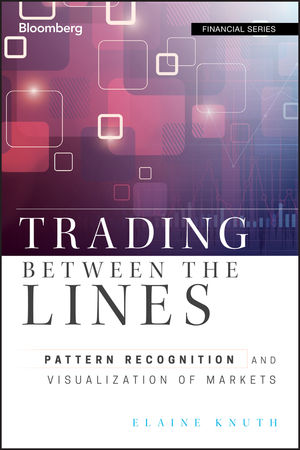 Insights into a pattern-based method of trading that can increase the likelihood of profitable outcomes
While most books on chart patterns, or pattern recognition, offer detailed discussion and analysis of one type of pattern, the fact is that a single pattern may not be very helpful for trading, since it often does not give a complete picture of the market.
What sets Trading Between the Lines apart from other books in this area is author Elaine Knuth's identification of sets of patterns that give a complete analysis of the market. In it, she identifies more complex chart patterns, often several patterns combined over multiple time frames, and skillfully examines these sets of patterns called "constellations" in relation to one another. These constellations turn sets of individual patterns into a more manageable set of patterns, where the relationship between them can lead to tactical trading opportunities.
Shows how to apply complex patterns to specific trades and identify opportunities as well entry and exit points
Markets covered include commodities, equities, and indexes
Presents an effective trading approach based on real market cycles-as opposed to computer simulations-that are found in active markets
Moving beyond the simple identification of basic patterns to identifying pattern constellations, this reliable resource will give you a better view of what is really going on in the market and help you profit from the opportunities you uncover.
See More
Preface.
Acknowledgements.
Chapter 1: Perception and Pattern: How Mindset Leads to Understanding and Action.
Chapter 2: Visualizing the Idea of What Makes a Price.
Chapter 3: An Upside Reversal.
Chapter 4: A Downside Reversal.
Chapter 5: Price and Repeating Order.
Chapter 6: Into the Valley of the Kings and the Place of Truth: Pattern Concepts to Enter a Market on the Run.
Chapter 7: Market Weather: The Quiet before the Storm and the Lightning Bolt -- Patterns Signaling an Unexpected Move.
Chapter 8: Inside Market Cycles.
Chapter 9: Managing Risk with Applied Trading Tactics.
Notes.
Index.
See More
ELAINE KNUTH is the Principal Partner of Davenport Advisors, LLC. Prior to this, she was the managing director at AQX Securities, advisor to the board of AQ Advisors in Zurich, and the managing partner of the Zurich Commodity Trading Advisory, Stewart Capital Management. Prior to starting her career in financial markets, Knuth worked as a journalist for a wide variety of publications, including Investor's World, Forbes, and the Journal of European Business. She is a member of both the Swiss Association of Market Technicians (SAMT) and the American Association of Professional Technical Analysts (AAPTA). Knuth was president of the International Federation of Technical Analysts (IFTA) from 2007 to 2010.
See More
More in this series
Learn more about