New Frontiers in Technical Analysis: Effective Tools and Strategies for Trading and Investing
ISBN: 978-1-57660-376-5
336 pages
September 2011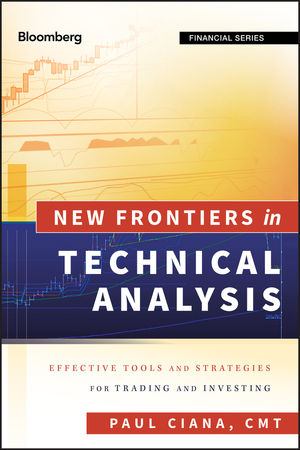 An essential guide to the most innovative technical trading tools and strategies available 
In today's investment arena, there is a growing demand to diversify investment strategies through numerous styles of contemporary market analysis, as well as a continuous search for increasing alpha. Paul Ciana, Bloomberg L.P.'s top liason to Technical Analysts worldwide, understands these challenges very well and that is why he has created New Frontiers in Technical Analysis.
Paul, along with in-depth contributions from some of the worlds most accomplished market participants developed this reliable guide that contains some of the newest tools and strategies for analyzing today's markets. The methods discussed are based on the existing body of knowledge of technical analysis and have evolved to support, and appeal to technical, fundamental, and quantitative analysts alike.
• It answers the question "What are other people using?" by quantifying the popularity of the universally accepted studies, and then explains how to use them
• Includes thought provoking material on seasonality, sector rotation, and market distributions that can bolster portfolio performance
• Presents ground-breaking tools and data visualizations that paint a vivid picture of the direction of trend by capitalizing on traditional indicators and eliminating many of their faults
• And much more
Engaging and informative, New Frontiers in Technical Analysis contains innovative insights that will sharpen your investments strategies and the way you view today's market.
See More
Preface xi
Acknowledgments xv
CHAPTER 1: Evidence of the Most Popular Technical Indicators 1
Paul Ciana, CMT
Defining Technical Analysis 2
Defining Chart Types 5
Evidence of Chart Type Popularity 10
Evidence of Technical Indicator Popularity 14
Applying the Most Popular Technical Indicators 18
Conclusion 45
CHAPTER 2: Everything Is Relative Strength Is Everything 49
Julius de Kempenaer
"This Time It's Different" 50
What Is Comparative Relative Strength? 51
The JdK RS-Ratio and JdK RS-Momentum 65
Relative Rotation Graphs 75
Conclusion 83
CHAPTER 3: Applying Seasonality and Erlanger Studies 85
Philip B. Erlanger, CMT
Testing for a Valid Seasonal Cycle 86
Applying Cycles as a Strategy 94
Monitoring Seasonal Data 101
Erlanger Studies: The Art of the Squeeze Play 108
CHAPTER 4: Kase StatWareTM and Studies: Adding Precision to Trading and Investing 155
Cynthia A. Kase, CMT, MFTA
Introduction to KaseSwing 157
Kase DevStops 169
Kase Momentum Divergence Algorithm 177
Kase PeakOscillator and KaseCD 188
Why Use KasePO and KaseCD? 189
Kase Permission Stochastic and Screen 199
Entering Trades and the Kase Easy Entry System 201
About the Kase Easy Entry System 206
Trading with Kase StatWare 209
Kase Bar Chart (Equal TrueRange Bar Chart) 211
Summary 215
CHAPTER 5: Rules-Based Trading andMarket Analysis Using Simplified Market Profile 217
Andrew Kezeli
Technical Analysis Is Simple in Theory—Difficult in Practice 218
Rules-Based Trading: Automated Strategy Trading versus Discretionary Trading 221
Balance versus Imbalance: Distinguishing the Two Phases of Market Activity 222
There Are Only Three Market Segments: Nontrending, Uptrending, and Downtrending 224
Four Market Participants—and Then a Fifth . . . 228
Market Profile 231
Market Movement: The Four Steps of Market Activity 234
Market Structure 236
The Relative Speed of the Market's Building-Block Components 239
Vertical Nondevelopment ("Minus Development") 240
Simplifying Market Profile 245
TAS PRO VAP Map 247
Rules-Based Trading and Analysis with TAS PRO Navigator 255
TAS PRO Indicator Application Examples 257
Conclusion 280
CHAPTER 6: Advanced TradingMethods 283
Rick Knox
From the CBOT to the Charts 283
Trading by Gut Feeling 287
Understanding the Background of an Opportunity 288
They Say Entry Is Easy, but Not in My Book 295
Trade When the Odds Are in Your Favor 299
Don't Fight the Trend 300
Trade Location Is Key to Long-term Success 301
Adjusting to Volatility 302
Anticipating What Needs to Happen 303
Using Time as Part of Your Risk Management 304
Learning to Control Your Emotions 306
The Hardest Part of Any Strategy Is the Exit 306
Putting It All Together: Two Examples 307
Picking Up the Right Tools 310
Recommended Reading 313
About the Authors 315
Index 319
See More
PAUL CIANA is an Application Specialist at Bloomberg LP where he consults with market participants on developing technical strategies, directs a week long class on technical analysis and proposes the development of new technical tools on Bloomberg. He is the author of the Bloomberg Global Technical Strategy report and contributes quarterly to Bloomberg Markets magazine. He has guest presented at the Traders Expo, Market Technicians Association Annual Symposium, International Federation of Technical Analysts Annual Conference, CFA Institute, MBA programs, and many Bloomberg events. He is the New York Chapter Chair of the Market Technicians Association and is an instructor in the CMT Institute. He graduated from the University at Albany with honors, majoring in finance and management, and minoring in economics.
See More
More in this series
Learn more about