A - Z Of Dog Training and Behavior
ISBN: 978-1-58245-007-0
208 pages
July 1999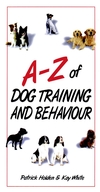 Owning a dog should always be a pleasure–never a pain. In this new book by a globally renowned dog trainer, owners can use a comprehensive program of positive socialization and training to get the most out of the dog-owner relationship. The book features two sections–Part I gives insights into how the dog's mind works while Part II presents an A–Z listing of key training concepts to assure success.
See More
Section I: Principles of Training.

Chapter One: The Wolf's Legacy.

Chapter Two: Puppy Development.

Chapter Three: Taking A Dog Into Your Home.

Chapter Four: The Right Start.

Chapter Five: Puppy Education.

Chapter Six: Understanding Canine Behaviour.

Section II: A-Z of Dog Training and Behaviour.

An alphabetical listing of terms, methods and definitions.
See More
Patrick Holden
has been involved in dog training for over 25 years both training his own dogs, and others as an instructor. He is an Obedience Competition judge. He trained his Labrador, Whisky, to be the highest qualifying Labrador in Obedience in the UK, and then trained his present Golden Retriever Ob. Ch. Melnola Bramble CDEX-TDEX as the first, and, so far, the only, Golden of all time to qualify at the topmost level in both Working Trials (TDEX) and Obedience (Obedience Champion). He has also trained Bramble to compete in Senior Agility in the Superdogs Final. They have been at Crufts together for several years in the teams and individual obedience finals. In 1996 Bramble was the only, and in 1998 only one of two gundogs in the UK to qualify for the Crufts Individual Obedience Championship. Patrick is now starting to train Bramble's son, Thorn, for competition.
Kay White has been entranced by dogs since early childhood. Her earliest memories are of Pekingese, then Airedales, and a bright, ginger-coloured cross-bred who came with Santa Claus one year. Marriage brought a red Cocker Spaniel and one of the early post-war Boxers. A move to the country made a dream come true a boarding and breeding kennel. Kay specialised in Boxers, Cavalier King Charles Spaniels, and some black Great Danes. The next major breakthrough came when she persuaded the Animal Health Trust, a pioneering centre of animal excellence known throughout the world, to host the first residential course for dog breeders, and so began a long campaign for breeder education which continues to this day. Kay is a prolific writer on animal care and has co-written the best-selling books Doglopaedia, Catlopaedia, and Book Of the Bitch published by Ringpress Books in the UK and with Howell Book House in the USA.
See More