The Life of Horses
ISBN: 978-1-58245-048-3
256 pages
September 1999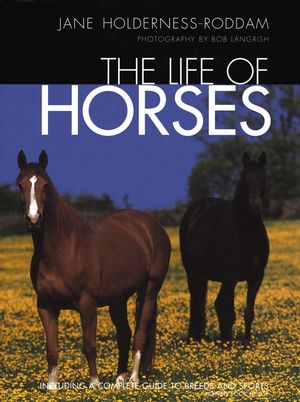 This is the ultimate book on horses-a truly comprehensive, imaginative, forward-looking, and international reference work about all aspects of the life of horses and the people involved. It provides detailed information on all major horse breeds, sports and leisure activities, and ceremonial and working horses.
* Compares and contrasts breeds from around the world and covers their history and relevance to modern uses.
* Includes special feature articles written by top international breeders, trainers, jockeys, and other horse people that give an insight as to what it is like to be involved with horses on a day-to-day basis.
* Reveals the latest thinking on understanding horses.
* Takes an in-depth look at all modern uses of the horse in work and leisure.
See More
Introduction (Jane Holderness-Roddam).

Understanding Horses (Susan McBane).

The evolving horse.

Essential features.

Horse needs.

Interpreting behaviour.

Education for life.

A day in the life of a groom (Nadine Ronan).

Breaking in a young horse (Jennie Loriston-Clarke).

Horse Breeds (Moira C Harris and Jane Kidd).

Riding Pony Jane (Holderness-Roddam).

Dales Pony.

Fell Pony.

Dartmoor Pony.

Exmoor Pony.

New Forest Pony.

Connemara Pony.

Shetland Pony.

Highland Pony.

Welsh Pony and Cob.

Haflinger.

Norwegian Fjord.

Icelandic Horse.

Basuto Pony.

Mongolian Pony.

Pony of the Americas.

A day at Pony Club camp (Louisa Brassey).

Thoroughbred.

Cleveland Bay.

Warmbloods.

French Trotter.

Selle Francais.

Hanoverian.

Holstein.

Oldenburg.

Westphalian.

Trakehner.

Andalusian.

Friesian.

Irish Draught.

Lipizzaner.

Canadian Horse.

Appaloosa.

Morgan.

Missouri Fox Trotter.

Mustang.

Quarter Horse.

American Saddlebred.

Standardbred.

Tennessee Walking Horse.

Criollo.

Paso Fino.

Akhal-Teke.

Kabardin.

Orlov Trotter.

Australian Stock Horse.

Arabian.

Barb.

Palomino.

Pinto.

A day in the life of a physiotherapist (Amanda Sutton).

Clydesdale.

Shire.

Suffolk.

Brabant.

Ardennes.

Percheron.

Dutch Draught.

A day in the life of a draught horse (Kevin Flynn).

Competitive Sports.

Eventing (Andrew Hoy).

The three day event (Bettina Overesch).

Dressage (Bernadette Faurie).

A dressage lesson (Carl Hester).

Showjumping (Pamela Carruthers).

The jump-off (Jos Lansink).

Racing (lan Balding).

A day at the races (Austin Brown).

Driving (John Richards).

Western riding (Moira Harris).

Rodeo (Moira Harris).

A day at the rodeo (Gavin Ehringer).

Endurance (Marcy Pavord).

A vet check at an endurance ride (Tony Pavord).

Vaulting (Jenny Leggate).

Polo (Lord Patrick Beresford).

A day in the life of a polo pony (Chrissie Kieley).

Pony Club (Tadzik Kopanski).

Mounted games (Tadzik Kopanski).

Ceremonial and Working Horses (Sylvia Stanier).

A day in the life of a police horse (Dennis Colton).

Leisure Activities (Jane Holderness-Roddam).

Showing.

Hunting.

Riding holidays.

Contributor biographies and acknowledgements.

Index.
See More
Jane Holderness-Roddam is one of the world's best-known horsewomen. She was the first woman to win a gold team medal for eventing at the Olympics in 1968, and went on to win a variety of major events, including the Burghley Horse Trials on Warrior in 1976, a team gold medal at the European Championships in 1977, and Badminton for a second time in 1978. Jane has written many magazine articles and several books including The Country Life Guide to Eventing, Practical Eventing, Competitive Riding, and The New Complete Book of the Horse. She currently runs a large and successful competition yard and stud where she breeds and trains horses. William Steinkraus, North American Consultant, was a gold medallist in showjumping at the 1968 Olympics. His previous books include Riding and Jumping, The US Equestrian Team Book of Riding, and The Complete Book of Showjumping. With expert contributions from: Ian Balding, Lord Patrick Beresford, Louisa Brassey, Austin Brown, Pamela Carruthers, Dennis Colton, Gavin Ehringer, Bernadette Faurie, Kevin Flynn Moira, C Harris, Carl Hester, Andrew Hoy, Jane Kidd, Chrissie Kieley, Tadzik Kopanski, Jos Lansink, Jenny Leggate, Jennie Loriston-Clarke, Susan McBane, Bettina Overesch, Marcy Pavord, Tony Pavord, John Richards, Nadine Ronan, Sylvia Stanier, Amanda Sutton
See More