Textbook
Auditing: A Practical Approach
ISBN: 978-1-74216-594-3
488 pages
December 2011, ©2011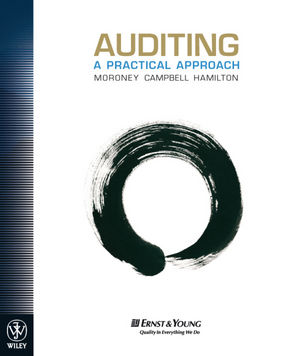 Auditing: a Practical Approach
is a new textbook written for students studying auditing at an undergraduate and postgraduate level. The text reflects how an audit is conducted in practice and the issues that are of greatest concern to auditors. Written by authors from academic and professional practice backgrounds the text has a practical orientation and presents essential audit topics supported with constructive pedagogy.
In order to communicate the key elements of the audit process a hypothetical case study, Cloud 9, underpins the audit process and methodology whilst providing a constant example of how general audit principles are applied in practice. With the educational trend to teach auditing with an industry and practical focus, the text will effectively develop a student's understanding of the various stages of an audit and how an audit is conducted in practice.
See More
Preface.
Acknowledgements.
1 Introduction and overview of audit and assurance.
2 Ethics, legal liability and client acceptance.
3 Audit planning I.
4 Audit planning II.
5 Audit evidence 1.
6 Overview of tests of controls, substantive procedures and sampling.
7 Gaining an understanding of the client's system of internal controls.
8 Execution of the audit — testing of controls.
9 Execution of the audit — performing substantive procedures.
10 Substantive testing and balance sheet accounts.
11 Substantive testing and income statement accounts.
12 Completion and reporting on the audit.
Appendix.
Glossary.
Index.
See More
Robyn Moroney, BEc (Hons), MCom, PhD, CA, CPA, is an Associate Professor in the Department of Accounting and Finance at Monash University. Before commencing her academic career, Robyn worked as an auditor at Arthur Young, now Ernst & Young. With over 25 years' academic experience, Robyn has previously held positions at The University of Melbourne, The University of Auckland, The University of New South Wales and La Trobe University. As a member of the board of the Accounting and Finance Association of Australia and New Zealand, which represents the interests of accounting and fi nance academics in both countries, Robyn has taken on a number of roles including co-chairing the conference technical committee and the doctoral symposium. Her areas of research are the behavioural aspects (auditor decision-making processes) and economics of auditing.

Fiona Campbell, BCom, FCA, is an Assurance Partner with Ernst & Young in Melbourne. Fiona has been client serving in the assurance practice since 1991 and has worked on audit clients primarily in the manufacturing, consumer and industrial products industries, as well as not-for-profi t sector organisations. She has considerable experience providing professional services to Australian and foreign-controlled companies, including large publicly listed and private companies. Fiona is also responsible for assurance methodology and technology at Ernst & Young in Australia, and has been involved in designing the fi rm's global audit methodology for the past 14 years, including ensuring compliance with both international and local auditing standards.

Jane Hamilton, BBus, MAcc, PhD, is Professor of Accounting at the Bendigo campus of the Regional School of Business, La Trobe University, and previously held academic positions at the University of Technology, Sydney. Jane has 20 years' experience in teaching and has published the results of her auditing research in several Australian and international journals.
See More
 Aligned to the Auditing Clarity Standards
 Integrated case study, Cloud 9, explains how each chapter fits into the context of a hypothetical audit and provides a continuous example of how the concepts discussed are applied in practice
 Essential topics of auditing are covered
 Succinct and practical approach is unique and will engage students.

See More
12 chapter table of contents ensures key audit process and methods are presented in a succinct and focused manner
 A flowchart begins each chapter providing an overview of the audit process, highlighting the stage covered in each chapter, what has come before and what is still to come
 A selection of end-of-chapter problems are derived from the Institute of Chartered Accountants CA Program
 The integrated case study, Cloud 9, can be used in weekly tutorial groups, for individual or group assignments.

See More
Learn more about