E-book
Young Guns on the Sharemarket: Meet Australia's New Generation of Money Makers
ISBN: 978-1-74216-892-0
248 pages
December 2011, Wrightbooks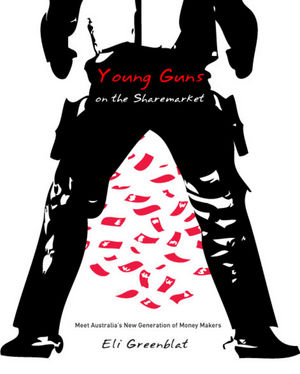 Eli Greenblat is a financial journalist who has followed the careers of Australia's young, talented moneymakers. This book is a fascinating insight into the investing strategies of a selection of money managers -- all extremely successful, all under 40 - and shares with readers the lifestyle this affords them.
The group of Australian 'market wizards' includes: Roger Montgomery, managing director and founder of Clime Asset Management; Tom Elliott, managing director of MM&E Capital; Peter Constable, chief investment officer of MMC Asset Management; Michael Norster; Lawrence Gozlan; Gabriel Radzyminski; Karl Siegling; Campbell McComb; Peter Wilmshurst; Angus Gluskie and Atul Lele.
See More
Acknowledgements vii
Foreword ix
Preface xi
1 Profit from takeovers: the secrets of corporate activity revealed — Tom Elliott, MM&E Capital 1
2 Warren and me: an Australian approach to Warren Buffett — Roger Montgomery, Clime Asset Management 17
3 Don't believe the hype: ignoring fads to build a better portfolio — Angus Gluskie and Atul Lele, White Funds Management 39
4 Seven simple rules for investing in the sharemarket — Karl Siegling, Cadence Asset Management 65
5 Making it big in small caps — Campbell McComb, Armytage Private 83
6 The contrarian investor: ignoring popular delusions and the madness of crowds — Peter Constable, MMC Asset Management 99
7 Everything you need to know about biotech stocks — Lawrence Gozlan, Scientia Capital 125
8 Listed investment companies: the hidden gems of the investment world — Gabriel Radzyminski, Centric Capital 151
9 How to look beyond the numbers and appreciate the true worth of a business — Sam Baillieu and Dean Fergie, Opis Capital 173
10 The adventures of an entrepreneur — Michael Norster, private investor 191
11 Think locally, buy globally: investing in Wall Street, Shanghai, London and beyond — Peter Wilmshurst, Templeton Global Growth 209
Conclusion 227
Index 231
See More
Eli Greenblatt is a financial journalist who has followed the careers of Australia's young, talented moneymakers. She is based in Melbourne and is a journalist with the Australian Financial Review.
See More
Learn more about