Passing Exams For Dummies
ISBN: 978-1-74216-925-5
288 pages
September 2011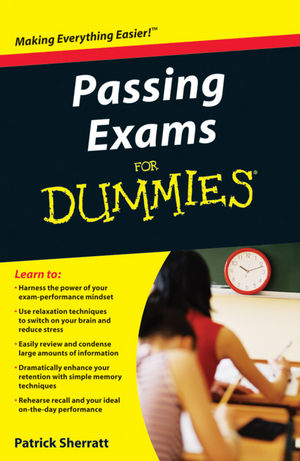 Created especially for the Australian customer!
Release your potential and get better exam results with this essential guide
Do you panic at the thought of exams? Do you think you're just not the academic type? No matter how old you are, exams can be stressful -- but they don't need to be. This essential guide provides expert tips on how to change your mindset, improve how you learn and revise, control your anxiety and get good marks -- whether you're studying at school, college or university, or to advance your career.
Change the way you think about yourself and exams -- become an A-grade student by finding out what motivates you and how you learn best
Explore the power of relaxation -- make your brain more receptive to incoming information and cope with exam pressure and anxiety
Review and rewrite your notes -- improve your reading style and condense your notes using visual mapping techniques
Use basic and advanced mnemonics to improve your memory -- map your notes; use rhymes, music and flash cards; and learn association techniques using memory pegs
Rehearse exam recall and performance -- use visualisation to mentally and physically rehearse passing your exams
See More
Introduction.
Part I: Releasing Your Potential to Pass Exams.
Chapter 1: Passing Exams: Preparation Is Everything!
Chapter 2: Meeting Your Amazing Brain.
Chapter 3: Discovering How to Learn.
Chapter 4: Thinking Strategies for High Performance.
Part II: Relaxing Comes First.
Chapter 5: Exploring the Power of Relaxation.
Chapter 6: Allowing Yourself to Relax.
Part III: Reviewing and Rewriting Your Notes.
Chapter 7: Knowing Your Academic Purpose.
Chapter 8: Reviewing Your Notes.
Chapter 9: Improving Your Reading Techniques.
Chapter 10: Preparing Your Revision Notes.
Part IV: Remembering With Pictures and Patterns.
Chapter 11: Making the Most of Memorising Skills.
Chapter 12: Using Mnemonics: Simple Memory Techniques.
Chapter 13: Finetuning Your Memory: Advanced Visual Techniques.
Part V: Rehearsing for Recall and Performance.
Chapter 14: Rehearsing Your Recall.
Chapter 15: Rehearsing Your Performance.
Part VI: The Part of Tens.
Chapter 16: Ten Tips for Exam Day: Before the Event.
Chapter 17: Ten Tips for the Exam — No Going Back Now!
Chapter 18: Ten Ways to Maintain Momentum Between Exams.
Part VII: Appendixes.
Appendix A: Planners.
Appendix B: Scripts.
Appendix C: More Study Aids.
Index.
See More
Patrick Sherratt incorporated performance psychology and revision techniques to dramatically improve his university exam results. He now holds a Masters degree in education, and is an author, trainer and coach teaching students of all ages how to prepare for and pass exams.
See More