Self Managed Superannuation Funds: A Survival Guide
ISBN: 978-1-74216-926-2
288 pages
December 2010, Wrightbooks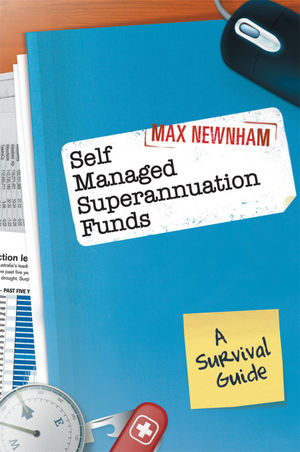 RE: Self Managed Superannuation Funds: A Survival Guide
Self managed superannuation funds (SMSFs) are the fastestgrowing sector of the superannuation industry. It's no wonder, given the almost unlimited investment options available with SMSFs — including investing in property, unlisted managed funds and collectables. So, is it time you joined the increasing number of Australians taking control of their fi nancial future with an SMSF?
Self Managed Superannuation Funds: A Survival Guide will help you manage one of the most important fi nancial assets you'll ever own.
Topics covered include:
determining if an SMSF is for you

selecting your own investments

setting up your super fund

managing the paperwork

understanding trustees' duties

complying with legislation

implementing tax-saving strategies.
See More
About the author.
Acknowledgements.
Preface.
1 The history of superannuation.
2 Fund types and self managed super.
3 The technical stuff.
4 Tax and superannuation.
5 The rules of the SMSF game.
6 Setting up an SMSF.
7 Running an SMSF.
8 Documentation for SMSFs.
9 Superannuation strategies.
10 Making good investments.
11 Questions and answers.
Appendix: super figures and tables.
Glossary.
Resources.
Index.
See More
Max Newnham is a qualified chartered accountant who has spent more than 30 years working with large and small businesses and individuals helping them achieve their maximum potential. Max takes complicated accounting and financial subjects and presents them to clients and readers in way that they can be understood and solved. Max has recently attained the designation of Certified Financial Planner. Max has a regular column with The Age and also appears occasionally in The Sydney Morning Herald. Max is the author of The GST Survival Guide - for Families and Small Business (Fairfax), Super Made Simple: A Survival Guide (Fairfax) and Tax For Small Business: A Survival Guide (Wrightbooks).
See More