101 Ways to Get Out Of Debt and On the Road to Wealth
ISBN: 978-1-74216-936-1
208 pages
July 2009, Wrightbooks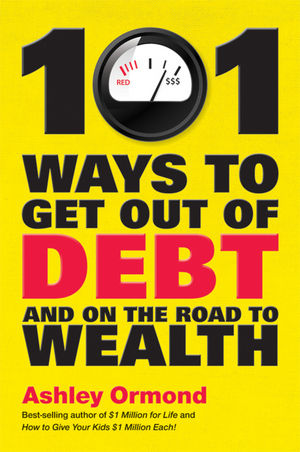 101 Ways to Get Out Of Debt and On the Road to Wealth
is the ultimate handbook for anybody who wants to get out of debt and stay out of debt.
This book will provide you with an insider's knowledge of how to beat the lenders at their own game. Inside you will find 101 practical and proven methods that anybody can use to master their debt. Best-selling author Ashley Ormond shows you how to conquer all types of debt, including mortgages, credit cards, car loans, personal loans, investment loans and small business loans.
In this book you will learn how to:
save a fortune in interest

get out of debt years earlier

decide which debts to attack first

find the best lending deals for your needs

manage repayment problems.
Ashley Ormond's common-sense approach will get you debt free and on the road to wealth in no time -- and that means more control over your life, less stress, and greater long-term security for you and your family.
See More
About the author.
Part I: The Household Debt Explosion.
Part II: First Things First.
1 Work out how far in the red you are.
2 Compare debts with income.
3 Work out your total loan repayment bill.
4 Get the facts on all your loans.
5 Check your interest rates.
6 Add up all those extra fees and charges.
7 Sort your debts.
8 Prioritise your debts.
9 Check your credit rating.
10 Make a calendar and set targets.
Part III: Mortgages.

11 Do the numbers.

12 Increase your mortgage repayments.

13 Make one-off extra payments.

14 Use pay rises to increase your loan repayments.

15 Shorten the life of the loan.

16 Use your income patterns to pay off sooner.

17 Pay fortnightly instead of monthly.

18 Shop around for a lower rate.

19 Keep repayments flat when rates fall.

20 Don't keep switching loans.

21 When refinancing, stick with your existing lender if you can.

22 Always choose principal-and-interest loans over interest-only loans.

23 Stick with floating mortgages.

24 Avoid redraw mortgages.

25 Be careful of offset accounts.

26 Don't use line-of-credit mortgages.

27 Beware the honeymoon rate nightmare.

28 Don't capitalise loans.

29 Upgrade your subprime loan.

30 Consolidate debt at your peril!

31 Don't pay for features you don't need.

32 Take into account all fees.

33 All fees are negotiable.

34 Don't count on your partner's income to borrow more.

35 Mortgage brokers -- spot the double take.

36 Check that you are getting the correct rate changes.

37 Let a tenant pay the mortgage.
38 Consider long-term house-sitting.
39 Plan a mortgage-burning party in advance.
40 Pay off the mortgage before investing.
41 Don't bank on your superannuation fund to pay off the mortgage.
42 Let grown-up kids pay part of your mortgage.
43 Consider mortgage contributions instead of presents.
44 Downsize -- smaller house, smaller mortgage.
45 Trade up houses, but trade down debt.
46 Try the payout two-step.
47 Avoid complex mortgage-reduction schemes.
48 If you have to sell, stay in control.
Part IV: Credit Cards.
49 Find out how much you spend on credit cards.
50 Choose the right card for your needs.
51 Avoid credit card surfing.
52 Never use cash advances.
53 Cut up your store cards.
54 Never pay just the minimum amount.
55 Keep payments flat.
56 Use direct debits.
57 Check every item on statements.
58 Once you've paid it off, cut it up.
59 Consider changing to charge cards.
60 If you have a charge card, don't take up the credit option.
61 Reduce your credit limits.
62 Do leave home without it!.
Part V: Car Loans, Personal Loans, Boat Loans and Store Loans.
63 Renegotiate, don't refinance.
64 Always pay a cash deposit.
65 Never buy new.
66 Don't self-insure.
67 Don't use store loans.
68 If you fall into arrears, tell your lender as soon as possible.
69 Get the credit bureau to limit more lending.
70 Celebrate each win.
Part VI: Investment Loans.
71 Use principal-and-interest loans for investment properties.
72 Avoid fixed-rate loans for rental properties.
73 Avoid lines of credit for investment properties.
74 Use your tax refund.
75 Don't use deposit bonds.
76 Don't borrow for the holiday house.
77 Borrow in the same currency as your income.
78 Beware the margin on share loans.
79 Use dividends to pay off the principal on share loans.
Part VII: Small Business Debts.
80 Get your personal finances sorted before starting a business.
81 Keep business finances separate.
82 Use your business plan.
83 Don't make capital purchases using the overdraft.
84 Don't extend your lease term too long.
85 Avoid high lease residuals.
86 When buying a business, do your research.
87 Don't borrow to buy a franchise.
88 Be careful of line-of-credit mortgages for business.
89 Use supplier terms and customer terms sensibly.
90 Sell your debtors.
91 Maximise depreciation.
92 Never pay full price for business equipment.
93 Business succession to reduce debt.
Part VIII: Avoiding and Minimising Debt.
94 Maintain an emergency cash fund.
95 Use separate accounts for savings goals.
96 No deposit, no mortgage.
97 Renters, get a 10 to 15 per cent discount on your first home.
98 Don't borrow to put money into superannuation.
99 Avoid tax-based schemes.
100 Be careful if guaranteeing other people's debts.
101 Beware the lender who says you can afford a loan.
Part IX: The Final Pay-Off.
Part X: Useful Resources.
Index.
See More
Ashley Ormond was one of Australia's first PC-equipped 'mobile lenders', starting out in the early 1980s with a financial calculator, a dual-floppy drive Compaq portable PC and a portable Epson thermal printer in his car. This was before the age of mobile phones, the internet, Windows, Excel, or even hard drives. It was back in the days when:
lenders actually analysed each borrower's ability to repay

borrowers actually had to have a job or other source of income

borrowers actually had to have proof of a savings record, proof of income, proof of assets

lenders had to actually think about how each debt would be repaid, instead of just shovelling money out the door

lenders actually retained the credit risk and retained the ownership of loans, instead of just selling them to unsuspecting bond-holders on the other side of the world.
His banking and finance career included several senior executive roles at major Australian and international banking and finance groups, including running branch networks, lending operations, product development, pricing and financial control. His formal qualifications include a Bachelor and Masters in Law, a Bachelor of Arts in Economic History and a Graduate Diploma in Applied Finance and Investment. He has also lectured for the Securities Institute of Australia. Since 'retiring' at 40, he has been a director of several companies, including listed, private and not-for-profit companies and a charitable foundation.
Ashley is the principal of Investing 101 Pty Ltd, a specialist investment research firm that holds an Australian Financial Services Licence. He is a sought-after speaker and commentator on financial markets and has written two best-selling books on finance: How to Give Your Kids $1 Million Each! and $1 Million for Life.
See More