E-book
Tax For Australians For Dummies, 2nd Edition
ISBN: 978-1-74246-850-1
192 pages
January 2011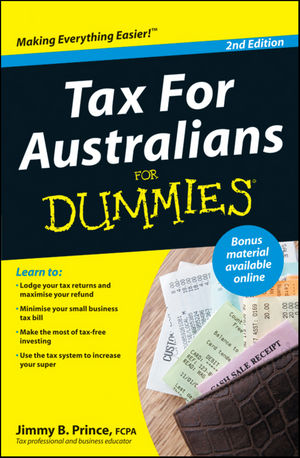 Created especially for the Australian customer!
Take on tax issues with confidence — and minimise your tax bill
Paying tax doesn't have to be a nightmare. In Tax For Australians For Dummies, 2nd Edition, Jimmy B. Prince steers you through the labyrinth of everyday tax issues. Whether you're an employee, investor, business owner, retiree or student, this easy-to-follow guide answers your tax questions. Bonus materials are available offline at www.dummies.com.
Build your tax knowledge—lodge a tax return or deal with an audit with confidence
Investigate tax-effective investment—take advantage of investing in shares and property
Reduce your tax bill as a small business owner—understand the rules and claim, claim, claim
Understand your income tax rates—deal with federal, state and local government taxes
Find expert guidance—come to terms with key tax principles and tap into the cases behind Australian tax law
Choose the right business structure—reduce your business tax bill the right way
Prepare for retirement—plan for tax-free twilight years
Tap into government concessions—understand all the options
Open the book and find:
Strategies to reduce the tax paid on share dividends
How you're taxed if you receive a termination or redundancy payment
Case studies—with practical, step-by-step examples
How your child's income, investments and trust distribution are taxed
Exactly what you need to know about GST
How to calculate capital gains tax on sale of investments
Which tax concession you can claim for your business type
Learn to:
Lodge your tax returns and maximise your refund
Minimise your small business tax bill
Make the most of tax-free investing
Use the tax system to increase your super
See More
Introduction 1
Part I: How You're Taxed in Australia 7
Chapter 1: Understanding the Australian Tax System 9
Chapter 2: Taxing Australians: The Formula You Had to Have 17
Chapter 3: Lodging Your Tax Return: This One Is for the Nation 31
Chapter 4: Receiving a Visit: When the Tax Office Comes Knocking 41
Part II: Income from Personal Exertion 49
Chapter 5: Taxing Employees: Working Class Man 51
Chapter 6: Living in Your Castle: Main Residence 65
Chapter 7: Taxing Issues That Affect Your Children 73
Part III: Tax Effective Investments 85
Chapter 8: Interesting Stuff: Bank Deposits and Tax 87
Chapter 9: Owning Part of the Company: Investing in Shares 91
Chapter 10: Building Your Dreams: Investing in Bricks and Mortar 103
Chapter 11: Catching Up on Capital Gains Tax 117
Part IV: Running a Business 135
Chapter 12: Structuring Your Business for Maximum Gain 137
Chapter 13: Starting a Business: On Your Mark! Get Set! Go 153
Chapter 14: Reducing Your Small Business Tax Bill 167
Chapter 15: Collecting Tax for the Government: Goods and Services Tax 179
Chapter 16: Living on the Fringe: Fringe Benefits Tax 189
Chapter 17: Getting Wealthy: CGT and Small Business 197
Part V: Thinking Long Term 205
Chapter 18: Preparing for Retirement Using Superannuation 207
Chapter 19: Reaping What You Sow: Receiving a Pension and Government Concessions 229
Chapter 20: Death and Taxes: Wills and Business Succession Planning 241
Part VI: The Part of Tens 251
Chapter 21: Ten Ways to Minimise Your Tax while Keeping the Tax Office Happy 253
Chapter 22: Ten of the Top Retirement Tax Tips 261
Part VII: Appendixes 269
Appendix A: Income Tax Rates and Tables 271
Appendix B: Taxing the Visitors: Non-Residents 293
Glossary 299
Index 311
See More
Jimmy B. Prince is a fellow of CPA Australia, a tax specialist and author of several investment books. He teaches tax courses and is s former lecturer and tutor in income tax law at La Trobe University. During his career, Jimmy has worked for the Australian Taxation Office.
See More