E-book
No-Nonsense Guide to Buying and Selling Property
ISBN: 978-1-74246-901-0
400 pages
July 2010, Wrightbooks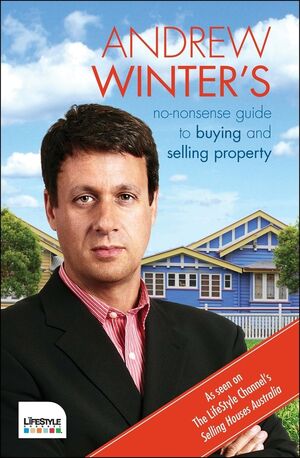 Andrew Winter has had enough -- enough of sellers who think their house is the best when the reality is far from it; enough of buyers who expect so much more than they can afford; and enough of dodgy agents who give the industry a bad name. And now, for the first time inside this no-nonsense guide, he has something to say to you.
If you're buying or selling property, you need help from someone who knows what they're talking about. Forget the spiel from agents and hype from the media -- read this straight-talking book and discover how to get your foot in the door, find a bargain, sell for a tidy profit or find the home of your dreams.
Do you really know how to make money from real estate?
Do you know what your house is worth?
Do you know the pitfalls of buying a house based on aesthetics?
Do you know how to establish a winning tactic for bidding at auctions?
Do you know what the agent is thinking?
Andrew Winter knows all of these things and more, and he has some cracking stories to tell you along the way. With more than 25 years in the property industry, including as host of the television series Selling Houses Australia on The LifeStyle Channel, Andrew can be trusted to tell it straight.
See More
About the author.
Acknowledgements.
Introduction: why I love houses.
1 On your marks, get set ...Are you ready to buy a home?
2 Pick me! Pick me!
Finding and buying your perfect home.
3 Ugly duckling or swan?
Deciding whether a renovation project is for you.
4 Shiny and new
Buying a new build.
5 Trading up
Moving to a home with more.
6 Buying to make money
The wild world of property investment.
7 Ready or not
Are you really ready to sell your home?
8 Ready, set, GO!
Preparing your home for sale.
9 The perfect match
Finding the right way to sell your home.
10 Is the price right?
The art of accurate valuation.
11 Sold! But which way?
Deciding on a method of sale.
12 The dream home
What's the agent looking for?
Final thoughts: the great Aussie dream.
Index.
See More
Andrew Winter
is obsessed with houses. With 25 years' experience in property he believes that if you haven't sold your house within two months, you're doing something wrong!
Andrew has been selling houses since he was 17 years old, buying his first home at 18, and since then he has experienced all market conditions -- good and bad -- and sold both beautiful dream homes and houses even the local rat population would steer clear from. His expertise comes from the understanding of the fact that people are actually the main ingredient in the process of buying and selling properties, whether they are first-time owners, seasoned house movers or investors.
Currently based on the Gold Coast, where he lives with his wife and three daughters, British-born Andrew Winter is a real estate agent, property adviser and host of Selling Houses Australia -- the ASTRA-winning property show on Foxtel and Austar's The LifeStyle Channel.
For more on Andrew Winter visit andrewwinter.com.au or sellinghousesaustralia.
See More