Games Companies Play: An Insider's Guide to Surviving Politics
ISBN: 978-1-84112-011-9
158 pages
May 2004, Capstone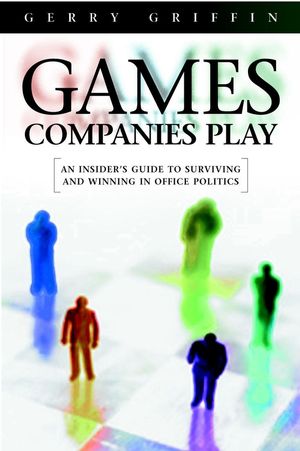 Everyone plays office politics, no matter how much they dislike it. The Games Companies Play shows you how to play and win in those messy, murky, and sometimes downright dirty office games. Five different categories of political challenges in the office are explored with real-life anecdotes and commentary that will help readers recognize the situation they?re in and plot the right course of action. Whether avoiding getting 'downsized', fighting off a whiz-kid challenger, or looking for a promotion, Games Companies Play will show you how to play the game... and win!
See More
Acknowledgements.
Preface.
SECTION I: THE SCENARIO.
1. We are at War.
2. Playing the Game.
SECTION II: WAR STORIES.
3. Personalities.
4. Culture Clashes.
5. Carrers and Promotions.
6. The Politics of Space.
SECTION III: SURVIVAL.
7. Case Study: Call-centres Versus Teleworking.
8. A-Z Survival Guide to Game-playing: How to Play Games More Successfully.
Bibliography.
Index.
See More
Gerry Griffin
is founder of the Business Communication Forum (BCF) - a training and development organisation dedicated to a whole range of business communication issues.  Gerery was formerly European Director of Training at PR agency Burson Marsteller, and Director of Communications at London Business School.
Author of three business books: The Power Game (looking at corporate power struggles), .Con (dealing with Internet strategy) and Reputation Management (looking at the world of corporare reputations and their impact on the bottom line).  Gerry has appeared frequently on national and international TV in relation to a range of business issues.  Gerry is also director of business strategy at Internet broadcaster Joose.TV.
Ciaran Parker is a writer, researcher, translator and reviewer.  He is also a commentator on African, Asian and Eastern European affairs.  Other interests include International Economics, Media issues, and the impact of the Internet on isolated cultures and its possibility for challenging other means of communication.  Ciaran holds a doctorate in history from Trinity College, Dublin and has written extensively on Ireland both past and present.
See More