E-book
Selling Services: Sales 12.06
ISBN: 978-1-84112-502-2
120 pages
October 2003, Capstone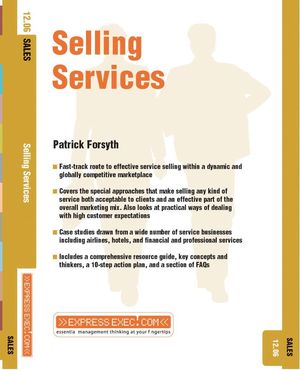 The sales function is the front-line of any business. Keeping up with the latest sales techniques is essential, as well as ensuring you have a motivated, incentivised and focused sales team well-versed in the basics of selling, from identifying new prospects and getting repeat business to closing the deal. This module gives essential insight into all the key sales drivers such as account management, handling complex sales, selling services, FMCG selling, customer relationships and self-development for sales people.
See More
Introduction to ExpressExec.
Introduction to Selling Services.
What is Selling Services?
The Evolution of Selling Services.
The E-Dimension.
The Global Dimension.
The State of the Art.
In Practice.
Key Concepts and Thinkers.
Resources.
Ten Steps to Making Selling Services Work.
Frequently Asked Questions.
Index.
See More
PATRICK FORSYTH is a leading authority in the field of strategy and business.  He is head of Touchstone Training and Consultancy, an independent firm based in the UK, specializing in marketing consultancy, research and training on marketing issues, sales, communication and management skills.  Patrick has established a reputation as a leading thinker and writer, and is the author of more than 20 successful business books.
See More