Making Good: The Inspiring Story of Serial Entrepreneur, Maverick and Restaurateur
ISBN: 978-1-84112-631-9
222 pages
September 2006, Capstone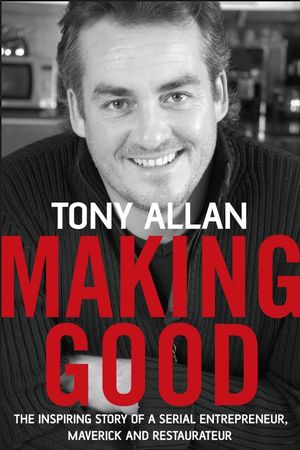 Tony Allan is a rare breed - a masterful chef as well as a great businessman. He is second only to Sir Terence Conran as Britain's wealthiest restaurateur and enjoys celebrity status following his primetime BBC cookery show Tony & Giorgio, with best pal Giorgio Locatelli.
Packed with entertaining anecdotes, his inspiring biography and business manual, Making Good, gives a real insight into one of the few remaining characters on the UK's restaurant scene and a template for aspiring entrepreneurs who want to know how it could - but perhaps shouldn't - be done. Making Good is the fly-on-the-kitchen-wall cookumentary of exactly what Tony Allan did and why he did it the way he did. It is essential reading for wannabe millionaires from all walks of life, including anyone who has ever dreamt of running their own business or opening a successful restaurant. Making Good will inspire anyone hungry for a genuine rags-to-riches story.
'I call Tony my English brother. He is the man who introduced me to English culture and we have had some wonderful times together. Launching Bank restaurant was a fantastic experience, one I will always remember, so this book is very special.' Christian Delteil, Managing Director of Bank Restaurants
See More
Acknowledgements.
Dramatis Personae.
Chapter One The First Few Quid.
Chapter Two The Heat of the Kitchen.
Chapter Three From P45 to Porsche.
Chapter Four Banks, Bankers and Bank Restaurant.
Chapter Five Fish Market Meets Stock Market.
Chapter Six Three Little Words.
Chapter Seven Escape.
Chapter Eight A Fishing Trip.
Chapter Nine The Supermodel Chefs.
Chapter Ten The Harder You Work, the Luckier You Get.
Appendix: Tony Allan – the Key Dates.
Index.
See More
Tony Allan is second only to Terence Conran as Britain's wealthiest restaurateur. He is worth an estimated £85 million, and rising all the time. His meteoric rise from fishmonger to the elite of British entrepreneurs speaks volumes for his dedication and skill as a chef, but also his uncanny ability as a businessman to spot an opportunity and maximize it to its fullest potential. He starred in the BBC2 primetime cookery show Tony & Giorgio, with his best pal Giorgio Locatelli, himself owner of the premier London eatery Lomando Locatelli.
See More