What Self-Made Millionaires Really Think, Know and Do: A Straight-Talking Guide to Business Success and Personal Riches
ISBN: 978-1-84112-680-7
324 pages
February 2006, Capstone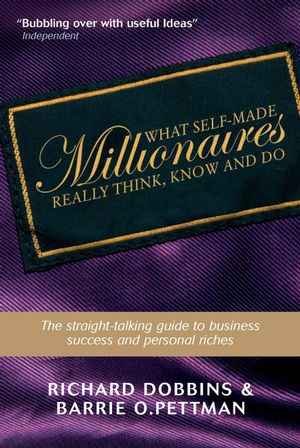 "Bubbling over with useful ideas."
—
Independent
"Hard-wired to reality. Hype free and brutally honest."
—Business Age
"Practical, down-to-earth advise of great value to would-be entrepreneurs."
—Sir Adrian Cadbury
"I was hooked. A really useful DIY manual for success."
—Personnel Today
"Exhiliration. Fright. Bewilerment. Exultation."
—Career Development International
"A Complete toolkit for the ambitious entrpreneur. Success, happiness and your first million within your grasp."
—The Citizen
"A gem of a book. A source of ideas and inspiration to any manager."
— Professor Richard Teare, Oxford Brookes University
"A good easy read. I agree with everything."
—Philip Vale, Durham University Business School
"That depth of understanding entrepreneurial business which can only come from doing it."
—Baron Prestoungrange, Co-founder, MCB University Press
"Recommended reading for any frustrated executive considering going it alone."
—Gulf Business
There are better ways to becoming a millionaire than trudging to your local store to buy a lottery ticket every week. The fact is your chances are 14 million to one. If you entered the lottery once every week, then—sure—you can expect to win. About once in every two hundred and seventy thousand years! But still there are those who believe that if they sit and listen as number after number is called out on the TV, that this will be their week. Their lucky break.
Then there are those that know that they must do more than watch spinning balls to make their lives a success; that in order to do more, to have more, to become master of their own destiny—they must change. They must act. And this book is for them.
Enter Richard Dobbins and Barrie O. Pettman, two self-made millionaires who reveal the secrets of their fantastic business achievements and personal fortunes. What Self-Made Millionaires Really Think, Know and Do does not rely on a mystical system, flimsy hype or unbelievable get-rich-quick schemes. Instead it offers practical and realistic advice for turning your brilliant ideas into a money-making business reality.
What Self-Made Millionaires Really Think, Know and Do guides you from business idea to market acclaim. You will discover the secrets of real business - from thinking creatively and setting clear goals to negotiating skills, leadership and liberating time management. It is illustrated throughout with superb success stories and anecdotes from the authors' remarkable careers.
Dobbins and Pettman provide a complete toolkit for the ambitious entrepreneur. They provide proven methods for getting what you want in life; success, happiness and your first million. It's not an easy walk in the park, but if you are serious about dramatically changing your life, it's all within your grasp. And it's all in here.
See More
Acknowledgements xi
To the Reader xiii
About the Authors xix
1 Everything Starts With Ideas 1
How to think creatively
2 You Can Have It If You Want It 27
How to set and achieve your goals
3 Strategy Will Get You There 97
How to implement a winning business strategy
4 Marketing Is The Key 133
How to implement a winning marketing strategy
5 Sales Skills Will Make Your Fortune 159
How to be excellent at selling
6 Everything Is Negotiable 197
How to negotiate better deals
7 We All Need Leadership 215
How to lead a winning team
8 Everything You Do Affects Sales, Costs and Profits 235
How to understand the financial implications
9 Never Use Time As An Excuse 277
How to focus on the 20% that brings in the 80%
Further Reading 295
Index 303
See More
Richard Dobbins
made his first million in management development. He is a management consultant and financial guru. He is a visiting professor of Management on MBA programs in North America, Europe, the Far East and Australia.
Barrie O. Pettman made his first million in publishing. He is a management consultant and visiting professor at the Canadian School of Management.
See More