Business Upgrade: 21 Days to Reignite the Entrepreneurial Spirit in You and Your Team
ISBN: 978-1-84112-744-6
208 pages
January 2007, Capstone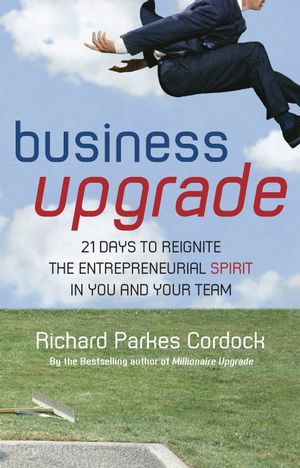 Inspirational guidance on building the entrepreneurial spirit in any enterprise
In Business Upgrade, well-known trainer and consultant on entrepreneurialism Richard Parkes Cordock shows readers how to reinvigorate their company by developing entrepreneurial spirit in-house. Based on his extensive experience with successful entrepreneurs, this practical, inspirational guide shows business leaders how to apply the mindset and independent spirit of the entrepreneur to the corporate environment.
Richard Parkes Cordock (Bath, UK) is the creator of the Millionaire MBA(TM) program and a consultant and trainer on the subject of entrepreneurialism.
See More
Acknowledgements.
Preface.
Introduction.
Prologue.
Chapter One.
Chapter Two.
Chapter 2a.
Chapter 2b.
Chapter Three.
Chapter Four.
Chapter Five.
Chapter Six.
Chapter Seven.
Chapter Eight.
Chapter Nine.
Chapter Ten Epilogue – 100 Days On.
Index.
See More
Richard Parkes Cordock
is a recognized authority in the mindset, strategies and personal leadership models of entrepreneurs and self-made millionaires.
Richard has met face-to-face with over 50 of the UK's leading self-made millionaire entrepreneurs and using the principles of Neuro Linguistic Programming (NLP), the science of success, has decoded their millionaire thinking. Through these digitally recorded interviews, he created the highly acclaimed mentoring program – Millionaire MBA™.
Richard is a regular speaker on the mindset of self-made millionaires and works with companies and organizations who wish to re-ignite their entrepreneurial spirit. He is a qualified accountant, NLP practitioner and gained his MBA from the University of Monaco. He recently launched Enterprise Leaders Worldwide, a training and development organization that brings entrepreneurial training to corporations.
See More