The Top 10 Investments for the Next 10 Years: Investing Your Way to Financial Prosperity
ISBN: 978-1-84112-802-3
Hardcover
200 pages
February 2008, Capstone
US $29.95

Add to Cart
This price is valid for United States. Change location to view local pricing and availability.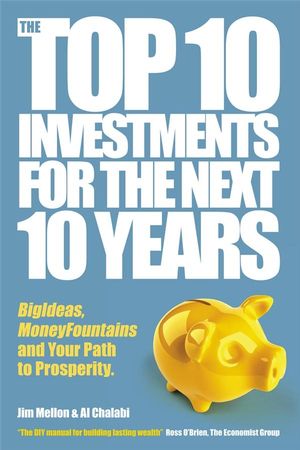 Jim Mellon and Al Chalabi demystify the process of investment and let you in on a few of their
BigIdeas
- whilst you work out a few of your own:
Real Estate – can the hot housing markets really continue to generate 20% annual increases?
Stocks & Mutual Funds – the hardest of all investment classes to operate in, so where are the opportunities?
Bonds & Cash – not as boring as you may think, and with the capacity to make you a lot of money!
The 'BRIC' Economies – how do the emerging economies of Brazil, Russia, India and China stack up against the four key determinates of growth?
Commodities & Collectables – learn the five reasons why commodities are an investment vehicle set to grow and grow.
'Green' Investments – how can we turn the challenges of green and eco-needs into monetary returns on investment?
Given a bit of strategic thinking and proper planning these BigIdeas can turn into MoneyFountains, meaning your financial worries for the future are over before they've begun.
"The DIY manual for building lasting wealth" Ross O'Brien, The Economist Group
"Many powerful City pundits would give an arm and a leg for thirty minutes with Jim Mellon. Simply divide your portfolio into 10 equal amounts and invest them in his 10 BigIdeas - the advice in this book will beat most professional fund managers by leaps and bounds." Sven Lorenz, market commentator, author & investor, and columnist for Money Week
"Packed with wise, practical advice, this book puts in plain English what every investor needs to know." Alexandra Harney, former South China Correspondent, The Financial Times
"If fund managers are so smart why do they sit opposite me? As an investor who backs his own judgement with cash, Jim Mellon sits on the same side, I only wish I had met him many many, years ago!" Peter Simon, owner and founder, Monsoon & Accessorize