Particle and Continuum Aspects of Mesomechanics: Mesomechanics 2007
ISBN: 978-1-84704-025-1
815 pages
May 2007, Wiley-ISTE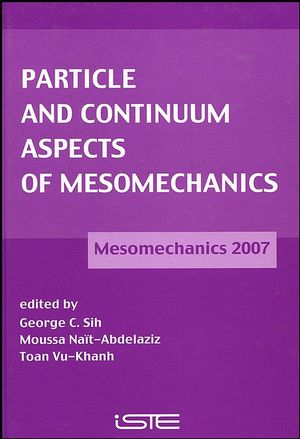 This title brings together a variety of papers presented at the 9th annual Meso meeting in 2007. The topics selected for Meso 2007 are designed to illustrate the relation of thresholds to multiscaling:
Flow through capillary tubes in contrast to pipes
Laminar and turbulent flow transition
Heat convection of thin wires in contrast to cylinders
Electrical conductance of macro- and nano-circuits
Rubbery and glassy polymers
Single- and poly-crystal behavior
Strength of wires and round cylindrical bars
Uni-axial and multi-axial material: linear and non-linear response
Thin and thick plate behavior
Brittle and ductile fracture
Small and large crack growth behavior
Low and high temperature effects
Local and global material property characteristics
Small and large bodies: size and time effects
Specimen and structure
See More
Section I: Physical Mechanisms of Multiple Damage.
Section II: Physical, Mesosopical and Multiscale Models.

Section III: Film, Layer and Interface.

Section IV: Crack Models and Solutions.

Section V: Nanomaterials.

Section VI: Electronic and Composite Materials.

Section VII: Brittle Fracture.

Section VIII: Failure, Creep and Fracture.

Section IX: Thermal, Mechanical and Environmental Effects.

Section X: Processing and Fabrication.

Section XI: Fatigue and Crack Growth.
Section XII: Vibration, Ultrasonic and Impact.
Section XIII: Heat Transfer and Fluid Mechanics.
Section XIV: Micrromechanical Damage and Effects.
Index of Authors.
See More
George C. Sih
, Office of Theoretical and Applied Fracture Mechanics, East China University of Science and Technology
Moussa Nait-Abdelaziz, Lille University of Sciences and Technology, Polytech Lille, France
Toan Vu-Khanh, Universite du Quebec, Ecole de technologie superieure
See More
More in this series