Fibre-Optic Communications
ISBN: 978-1-84821-049-3
November 2008, Wiley-ISTE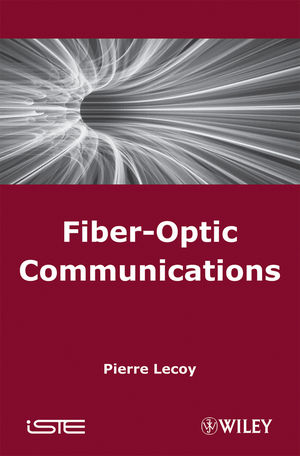 This book describes in a comprehensive manner the components and systems of fiber optic communications and networks. The first section explains the theory of multimode and single-mode fibers, then the technological features, including manufacturing, cabling, and connecting. The second section describes the various components (passive and active optical components, integrated optics, opto-electronic transmitters and receivers, and optical amplifiers) used in fiber optic systems. Finally, the optical transmission system design is explained, and applications to optical networks and fiber optic sensors are detailed, including the most recent developments in switched networks, high bit-rate systems, and FTTH or radio over fiber.
See More
Foreword.
Introduction.
Chapter 1. Multimode Optical Fibers.
1.1. Overview of optics.
1.2. Dielectric waveguide.
1.3. Multimode optical fibers.
1.4. Propagation in multimode optical fibers.
1.5. Dispersion in multimode optical fibers.
1.6. Appendix: detail of calculation in section 1.4.2.
Chapter 2. Single-Mode Optical Fibers.
2.1. Fiber optic field calculation.
2.2. Single-mode fiber characteristics.
2.3. Dispersion in single-mode fibers.
2.4. Polarization effects in single-mode fibers.
2.5. Non-linear effects in optical fibers.
2.6. Microstructured (photonic) optical fibers.
Chapter 3. Fiber Optics Technology and Implementation.
3.1. Optical fiber materials and attenuation.
3.2. Manufacturing of optical fibers.
3.3. Optical fiber cables and connections.
3.4. Extrinsic fiber optic losses.
3.5. Optical fiber measurements.
Chapter 4. Integrated Optics.
4.1. Principles.
4.2. Mode coupling and its applications.
4.3. Diffraction gratings.
Chapter 5. Optical Components.
5.1. Passive non-selective optical components.
5.2. Wavelength division multiplexers.
5.3. Active optical components.
5.4. Fiber optic switches.
Chapter 6. Optoelectronic Transmitters.
6.1. Principles of optoelectronic components.
6.2. Light-emitting diodes (LED).
6.3. Laser diodes.
6.4. Optical transmitter interface.
6.5. Comparison between optoelectronic emitters.
Chapter 7. Optoelectronic Receivers.
7.1. Photodetectors.
7.2. Optical receiving interface.
7.3. Other photodetection schemas.
Chapter 8. Optical Amplification.
8.1. Optical amplification in doped fiber.
8.2. Erbium-doped fiber amplifiers.
8.3. Noise calculation in amplified links.
8.4. Other types of optical amplifiers.
Chapter 9. Fiber-Optic Transmission Systems.
9.1. Structure of a fiber-optic digital link.
9.2. Digital link design.
9.3. Digital link categories.
9.4. Fiber-optic analog transmissions.
9.5 Microwave over fiber optics links.
Chapter 10. Fiber-Optic Networks.
10.1. Computer networks.
10.2. Access networks.
10.3. Wide area networks.
10.4. Toward all optical networks.
10.4.5. Trends.
Chapter 11. Fiber-Optic Sensors and Instrumentation.
11.1. Fiber optics in instrumentation.
11.2. Non-coherent fiber-optic sensors.
11.3. Interferometric sensors.
11.4. Fiber optic sensor networks.
Exercises.
Bibliography.
Index.
See More
Buy Both and Save 25%!
Fibre-Optic Communications (US $165.00)
-and- Network Coding (US $125.00)
Total List Price: US $290.00
Discounted Price: US $217.50 (Save: US $72.50)
Cannot be combined with any other offers. Learn more.
More in this series