ICWIM 5, Proceedings of the International Conference on Heavy Vehicles: 5th International Conference on Weigh-in-Motion of Heavy Vehicles
ISBN: 978-1-84821-059-2
582 pages
April 2009, Wiley-ISTE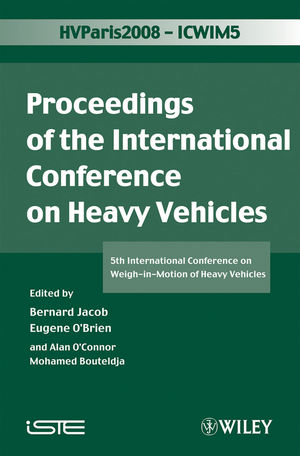 Weigh-in-motion (WIM) is a process of measuring the dynamic tire forces of a moving vehicle and estimating the corresponding tire loads of the static vehicle. This collection of lectures from the International Conference on Weigh-in-Motion details applications such as: collection of statistical traffic data, support of commercial vehicle enforcement, roadway and bridge cost allocation, and traffic management.
See More
Foreword 1 – P. COURTIER 1
Avant-Propos 1 – P. COURTIER 3
Foreword 2 – J. ROUDIER 5
Avant-Propos 2 – J. ROUDIER 7
Preface – B. JACOB 9
Préface – B. JACOB 12
International Forum for Road Transport Technology 15
International Society for Weigh-in-Motion 17
Panel Discussion 19
Plenary Session 23
Weigh-in-motion for enforcement in Europe – B. JACOB and H. VAN LOO 25
Bridge weigh-in-motion – latest developments and applications world wide
E. OBRIEN, A. ?NIDARIÈ and T. OJIO 39
Current status of weight-in-motion in sub Sahara Africa – G. ACKERMANN, H. THEYSE, L. KANNEMEYER and C. VAN AS 57
Session 1. Traffic and Freight Management, Road Safety and Pricing, using WIM networks 69
Weigh-in-motion measurements in the national road network of Spain during the 2002-2003 period. Data collection procedure and main results – J. LEAL 71
Measure in motion vehicle detector on the motorways, expressways and the roads of Slovakia – S. URGELA and R. JANOTKA 85
Test of WIM sensors and systems under Brazilian conditions
H. GOLTSMAN, M. PAIVA, A. VALENTE and F. PANTOJA 97
Comparison of WIM, noise, vibration data from heavy vehicles
L. POULIKAKOS, K. HEUTSCHI, M. ARRAIGADA, P. ANDEREGG and M. PARTL 105
Environmental noise measurement in combination with BWIM
T. OJIO and K. YAMADA 115
Weigh-in-motion system to manage heavy vehicle access to the infrastructures
H. IMINE, S. SRAIRI, D. GIL and J. RECEVEUR 127
Special vehicle automatic measurement system and its application
H. NISHIDA, H. SATO, H. KAWAY and S. NAKAO 137
Practical experiences and the next generation of WIM
M. DUKKER and D. MARPLES 149
Session 2. Technology and Testing 161
Installation and experimentation of MS-WIM systems with three strip sensor technologies - early results – B. JACOB, M. BOUTELDJA and D. STANCZYK 163
A statistical spatial repeatability algorithm for multiple sensor weigh in motion
E.OBRIEN, A. GONZALEZ and F. MCINERNEY 175
Optimized design of weigh-in-motion multiple-sensors array by an energetic approach – K. BOUTELDJA, B. JACOB, and V. DOLCEMASCOLO 187
Multi-sensor weigh-in-motion system – J. GAJDA, R. SROKA, M. STENCEL and T. ZEGLEN 199
Heavy vehicle on-board mass monitoring: capability review – B. PETERS and C. KONIDITSIOTIS 209
Measuring dynamic wheel loads on tri and quad axle groups – C. BLANKSBY,
R. GEORGE, B. PETERS, A. RITZINGER and L. BRUZSA . 223
Product development to meet new requirements regarding road and rail WIM technologies – D. CORNU 237
A hydrostatic sensor for portable WIM systems – J. ROMERO and A. LOZANO 249
Development of axle load weighing system for expressways (Result of Improvement on LS-WIM) – K. SOMEYA, H. OKUDA, T. SHINDO and Y. Maeda 261
Session 3. Bridge Weigh-in-Motion 269
Comparison of conventional and regularized bridge weigh-in-motion algorithms
C. ROWLEY, A. GONZALEZ, E. OBRIEN and A. ?NIDARIÈ 271
Improving bridge-WIM results with better road evenness and advanced compensations – I. LAVRIÈ, A. ?NIDARIÈ and J. KALIN 283
Moving vehicle load identification from bridge responses based on method of moments (MOM) – L. YU, T. CHAN and J.-H. ZHU 297
Test of a B-WIM system on integral and steel orthotropic deck bridges in France
M. BOUTELDJA, B. JACOB and V. DOLCEMASCOLO 311
Bridge weigh in motion : French tests and Swedish experience
V. DOLCEMASCOLO and L. SJÖGREN 322
Session 4. Vehicle Size and Weight Enforcement 333
Development and implementation of a WIM network for enforcement in France Y. MARCHADOUR and B. JACOB 335
Pre-selection of overloaded vehicles – D. STANCZYK, B. GEROUDET, C. THIOUNN and A. MILLOT 347
Targeted roadside enforcement using WIM and ANPR – M. JONES 359
Combined LS & HS WIM systems for law enforcement and toll road applications E. DOUPAL and R. CALDERARA 369
Virtual weigh stations for monitoring of trucks by-passing fixed weigh stations
F. KLEBE 377
Session 5. Stnadard, Data Quality, Storage and Management 385
A synthesis of the US practice on high speed WIM calibration – A. PAPAGIANNAKIS 387
Utah commercial motor vehicle weigh-in-motion calibration: current practice and recommended procedure – G. SCHULTZ and L. SEEGMILLER 399
WIM accuracy verification through simulation – M. SLAVIK 411
Macroscopic WIM calibration – G. DE WET and M. SLAVIK 423
Auto-calibration and temperature correction of WIM systems - P. BURNOS 437
Sub-0.1 percent error in portable, low-speed weigh-in-motion
R. ABERCROMBIE, L. HIVELY, M. SCUDIERE and F. SHELDON 447
Session 6. Data for Bridge Engineering 459
Application of WIM in probability based safety assessment of bridges
A. O'CONNOR 461
Identification of equivalent traffic load on bridge using optical fiber strain
sensors – C.P. CHOU and C.Y. WANG 475
Measurements of bridge dynamics with a bridge weigh-in-motion system
A. ?NIDARIÈ, I. LAVRIÈ and J. KALIN 485
Extreme effects of the traffic loads on a prestressed concrete bridge
D. SIEGERT, M. ESTIVIN, J. BILLO, F. BARIN and F. TOUTLEMONDE 499
Interaction effect of traffic loadsd and bridge detailssusceptible to fatigue
H. LEENDERTZ and A. DE BOER 511
Fatigue life estimation of a concrete slab using B-WIM and traffic census
Y. OSHIMA and K. SUGIURA 525
Session 7. Data for Pavement Engineering 537
The use of weigh-in-motion and stress-in-motion data in road managmenent: the results of a PIARC inquiry – F. LA TORRE 539
Extending WIM-NL-data with a loading indicator and a truck dmage factor
H. VAN SAAN and D. VAN BOXEL 549
See More
Buy Both and Save 25%!
ICWIM 5, Proceedings of the International Conference on Heavy Vehicles: 5th International Conference on Weigh-in-Motion of Heavy Vehicles (US $282.00)
-and- Smart Grids (US $159.95)
Total List Price: US $441.95
Discounted Price: US $331.46 (Save: US $110.49)
Cannot be combined with any other offers. Learn more.
More in this series