Operational Research and Networks
ISBN: 978-1-84821-092-9
352 pages
December 2008, Wiley-ISTE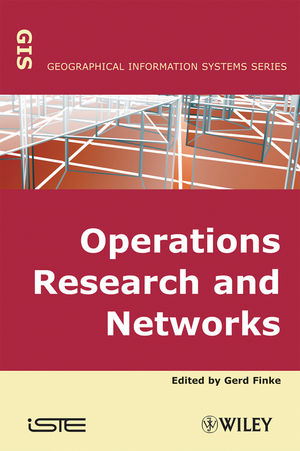 This book presents the principal concepts of operations research (OR) as tools for the planning, support, and management of various types of networks, including both physical and logical networks. It analyzes real problems, and offers a collection of models for many application areas, together with the corresponding solution techniques. Following this, important application areas are addressed, such as project scheduling, distribution networks, telecommunication networks, and planning of satellite imaging. Anyone involved in the theory or practice in this field will find this a vital resource.
See More
Introduction (Gerd FINKE).
Chapter 1. Linear Programming (Gerd FINKE and Nadia BRAUNER).
Chapter 2. Graphs and Networks (Wojciech BIENIA).
Chapter 3. Classical Combinatorial Problems and Solution Techniques (Clarisse DHAENENS, Marie-Laure ESPINOUSE and Bernard PENZ).
Chapter 4. Project Scheduling (Lionel DUPONT).
Chapter 5. Operations Management in Transportation Networks (Jacques DESROSIERS).
Chapter 6. Pickup and Delivery Problems with Services on Nodes or Arcs of a Network (Alain HERTZ and Michel MITTZA).
Chapter 7. Telecommunication Networks (Alexander CAMINADA, Jin-Kao HAO, Jean-Luc LUTTON and Vincent MARTIN).
Chapter 8. Mission Planning for Observation Satellites (Virginie GABREL, Cecile MURAT and Vangelis PASCHOS).
List of Authors.
Index.
See More
Gerd Finke is currently Professor of operation research at the Joseph Fourier university in Grenoble, France.
See More
More in this series