Artificial Beings: The Conscience of a Conscious Machine
ISBN: 978-1-84821-101-8
256 pages
June 2009, Wiley-ISTE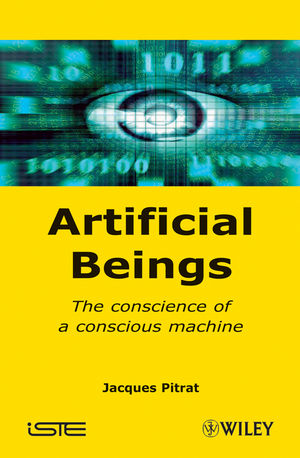 This book demonstrates that not only is it possible to create entities with both consciousness and conscience, but that those entities demonstrate them in ways different from our own, thereby showing a new kind of consciousness.

See More
Acknowledgements.
Note on the Terminology.
Chapter 1 Presenting the Actors.
1.1 The book.
1.2 Human and artificial beings.
1.3 The computer.
1.4 The author.
1.5 CAIA, an artificial AI scientist.
1.6 The research domains of CAIA.
1.7 Further reading.
Chapter 2 Consciousness and Conscience.
2.1 Several meanings of "consciousness".
2.2 Extending the meaning of "conscience" for artificial beings.
2.3 Why is it useful to build conscious artificial beings with a conscience?
2.4 Towards an artificial cognition.
Chapter 3 What Does "Itself" Mean for an Artificial Being?
3.1 Various versions of an individual.
3.2 Variants of an individual.
3.3 Cloning artificial beings.
3.4 Dr. Jekyll and Mr. Hyde.
3.5 The Society of Mind.
3.6 More on the subject.
Chapter 4 Some Aspects of Consciousness.
4.1 Six aspects of consciousness.
4.2 Some limits of consciousness.
Chapter 5 Why is Auto-observation Useful?
5.1 Auto-observation while carrying out a task.
5.2 Auto-observation after the completion of a task.
Chapter 6 How to Observe Oneself.
6.1 Interpreting.
6.2 Adding supplementary orders.
6.3 Using timed interruptions.
6.4 Using the interruptions made by the operating system.
6.5 Knowing its own state.
6.6 Examining its own knowledge.
6.7 The agents of the Society of Mind.
6.8 The attention.
6.9 What is "I".
Chapter 7 The Conscience.
7.1 The conscience of human beings.
7.2 The conscience of an artificial being.
7.3 Laws for artificial beings.
Chapter 8 Implementing a Conscience.
8.1 Why is a conscience helpful?
8.2 The conscience of CAIA.
8.3 Implicit principles.
8.4 Explicit principles.
8.5 The consciences in a society of individuals.
Chapter 9 Around the Conscience.
9.1 Emotions.
9.2 Changing its conscience.
9.3 A new human conscience for our relationships with artificial beings.
Chapter 10 What is the Future for CAIA?
Appendices.
1 Constraint Satisfaction Problems.
2 How to implement some aspects of consciousness.
Bibliography.
Index.
See More
Jacques Pitrat was a researcher at the French CNRS from 1967 to 2000 and for 8 years was Director of the AI Laboratory at University of Paris 6. His research has focused on various AI systems, mainly in the field of the most efficient application of metaknowledge. He has taught AI for more than 30 years, directed 70 theses and written five books on the subject. He is currently a researcher at LIP6 at University of Paris 6 and is a fellow of the AAAI and ECCAI.
See More
More in this series