From Speech Physiology to Linguistic Phonetics
ISBN: 978-1-84821-113-1
240 pages
September 2009, Wiley-ISTE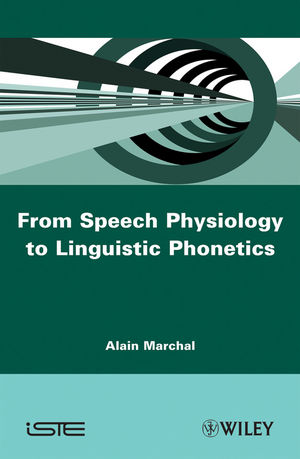 Communicating by speech is seemingly one of the most natural activities for humans. However, despite its apparent obviousness and ease, speech production is a very complex activity with multiple levels of organization involved with transforming cognitive intent into a meaningful sequence of sounds. This book establishes a connection between the physiology of speech and linguistics, and provides a detailed account of speech production processes, indicating how various languages of the world make use of human anthropophonic capacities. The book also offers new insights into the possible ways in which articulatory-based phonetics and phonology might be unified, making it essential reading matter for anyone involved in this field. Numerous illustrations are included which enhance the reader's understanding.
See More
Preface ix
Chapter 1. Respiration and Pulmonary Initiation 1
1.1. The rib cage 2
1.2. Lungs 3
1.3. Normal respiration 5
1.4. Respiration muscles 5
1.5. Pulmonary capacity and pulmonary volume 10
1.6. Respiration in phonation 11
Chapter 2. Phonation and the Larynx 23
2.1. The larynx 23
2.2. The laryngeal cartilages 30
2.3. Joints and ligaments 32
2.4. The larynx muscles 35
2.5. Innervation of the larynx 50
2.6. The mucous membrane of the larynx 50
2.7. Phonation 50
2.8. The linguistic functions of laryngeal activity 59
2.9. Phonetic features 63
Chapter 3. Articulation: Pharynx and Mouth 65
3.1. The oral cavity 66
3.2. The pharynx 77
Chapter 4. Articulation: The Labio-Mandibular System 97
4.1. The lips: anatomical and functional description 98
4.2. The jaw 106
4.3. Linguistic functions of lip movement 110
4.4. Motor coordination between the lips and the lower jaw 114
Chapter 5. Elements of Articulatory Typology 117
5.1. Aerodynamic mechanisms 117
5.2. Phonatory modes 121
5.3. Articulation 125
Chapter 6. The Articulatory Description of Vowels and Consonants 133
6.1. Vowels 134
6.2. Consonants 141
Chapter 7. Coarticulation and Co-production 153
7.1. Translation models 155
7.2. Action models 161
7.3. Towards a direct theory of speech production 165
7.4. The nature of coarticulation phenomena 173
7.5. Interpretation of coarticulation phenomena 177
7.6. Conclusion 177
Bibliography 179
Index 209
See More
Alain Marchal is a senior scientist in Linguistics and Phonetics at the French National Research Center (CNRS). He conducts interdisciplinary research work on speech production with a special focus on cross-language aspects of coarticulation in a number of european languages, using multisensor recording techniques, including electropalatography.
See More
Buy Both and Save 25%!
From Speech Physiology to Linguistic Phonetics (US $123.00)
-and- Stochastic Methods for Pension Funds (US $192.00)
Total List Price: US $315.00
Discounted Price: US $236.25 (Save: US $78.75)
Cannot be combined with any other offers. Learn more.
More in this series