Smart Grids
ISBN: 978-1-84821-261-9
350 pages
May 2012, Wiley-ISTE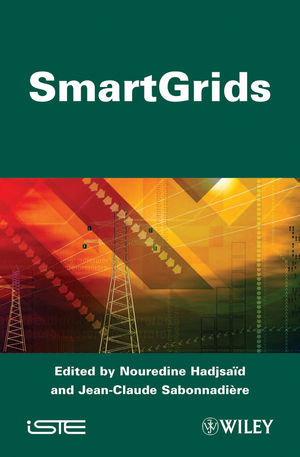 On a worldwide basis, the development of SmartGrids is a consistent answer to the problem of an efficient and sustainable delivery of electric energy through distribution grids. SmartGrids are a combination of information and communication technologies and new energy technologies. There are many different definitions of the concept of SmartGrids and thus it appears indispensable to gather the knowledge available from both industry and research laboratories in one book. Distributed generation is rightly receiving an increased amount of attention and will become an integral part of urban energy systems, providing consumers and energy providers with safe, affordable, clean, reliable, flexible and readily-accessible energy services.
The aim of this book is to describe future electricity networks that will enable all energy services to become sustainable. The traditional design of network control systems with a centralized structure is not in-line with the paradigm of the unbundled electricity system and decentralized control; this is highlighted by looking at how future active networks will efficiently link small- and medium-scale power sources with consumer demands, allowing decisions to be made on how best to operate in real time. It also looks at the level of control required: power flow assessment, voltage control and protection require cost-competitive technologies and new communication systems with more sensors and actuators than presently used, certainly in relation to the distribution systems. To manage active networks, a vision of grid computing is created that assures universal access to computing resources. An intelligent grid infrastructure gives more flexibility concerning demand and supply, providing new instruments for optimal and cost-effective grid operation at the same time.
See More
Foreword by Ronnie Belmans
Chapter 1. SmartGrids: Motivation, Stakes and Perspectives
(Nouredine Hadjsaid and Jean-Claude Sabonnadiere)
1.1 Introduction
1.2 Information and communication technologies serving the electrical system
1.3 Integration of advanced technologies
1.4 The European energy perspective
1.5 Shift to electricity as an energy carrier (vector)
1.6 Main triggers of the development of SmartGrids
1.7 Definitions of SmartGrids
1.8 Objectives addressed by the SmartGrid concept
1.9 Socio-economic and environmental objectives
1.10 Stakeholders involved in the implementation of the SmartGrid concept
1.11 Research and scientific aspects of the Smart Grid
1.12 Preparing the competences needed for the development of SmartGrids
1.13 Conclusion
Chapter 2. From the SmartGrid to the Smart Customer: the Paradigm Shift
(Catherine Failliet)
2.1 Key trends
2.2 The evolution of the individual's relationship to energy
2.3 The historical model of energy companies
2.4 SmartGrids from the customer's point of view
2.5 What about possible business models?
Chapter 3. Transmission Grids: Stakeholders in SmartGrids
(Herve Mignon)
3.1 A changing energy context: the development of renewable energies
3.2 A changing energy context: new modes of consumption
3.3 New challenges
3.4 An evolving transmission grid
Chapter 4. SmartGrids and Energy Management Systems
(Jean-Louis Coullon)
4.1 Introduction
4.2 Managing distributed production resources
4.3 Demand response
4.4 Development of storage, microgrids and electric vehicles
4.5 managing high voltage direct current connections
4.6 Grid reliability analysis
4.7 Smart asset management
4.8 Smart grid rollout: regulatory needs
4.9 Standards
4.10 System architecture items
Chapter 5. The Distribution System operator at the Heart of the SmartGrid Revolution
(Pierre Mallet)
5.1 Brief overview of some of the general elements of electrical distribution grids
5.2 The current changes
5.3 Smart grids enable the transition to carbon-free energy
5.4 The different constituents of SmartGrids
5.5 Smart Life
5.6 Smart operation
5.7 Smart Metering
5.8 Smart Services
5.9 Smart local optimization
5.10 The distributor ERDF is at the heart of future SmartGrids
Chapter 6. Architecture, Planning and Reconfiguration of Distribution Grids
(Marie-Cecile Alvarez, Raphael Caire and Bertrand Raison)
6.1 Introduction
6.2 The structure of distribution grids
6.3 Planning of the distribution grids
6.4 Reconfiguration for the reduction of power losses
Chapter 7. Energy Management and Decision-aiding Tools
(Yvon Besanger, Bertrand Raison, Raphael Caire and Tran-Quoc Tuan)
7.1 Introduction
7.2 Voltage control
7.3 Protection schemes
7.4 Reconfiguration after a fault: results of the INTEGRAL project
7.5 Reliability
Chapter 8. Integration of Vehicles with Rechargeable Batteries into Distribution Networks
(Florent Cadoux and George Gross)
8.1 The revolution of individual electrical transport
8.2 Vehicles as "active loads"
8.3 Economic impacts
8.4 Environmental impacts
8.5 technological challenges
8.6 Uncertainty factors
Chapter 9. How Information and Communication technologies will shape SmartGrids
(Gilles Privat)
9.1 Introduction
9.2 Control decentralization
9.3 Interoperability and connectivity
9.4 From synchronism to asynchronysm
9.5 Future Internet for SmartGrids
Chapter10. Information Systems in the Metering and management of the Grid
(Herve Barancourt)
10.1 Introduction
10.2 The metering information system
10.3 Information system metering in the management of the grid
10.4 Conclusion: urbanization of the metering system
Chapter 11. Smart Meters and SmartGrids: an Economic Approach
(Jacques Percebois)
11.1 "Demand response": a consequence of opening the electricity industry and the rise in environmental concerns
11.2 Traditional regulation via pricing is no longer sufficient to avoid the risk of "failure" during peaks
11.3 Smart meters: a tool for withdrawal and market capacity
11.4 From smart meters to SmartGrids – the results
Chapter 12. The Regulation of SmartGrids
(Didier Laffaille)
12.1 The regulation and funding of SmartGrids
12.2 Regulation and economic models
12.3 Evolution of the value chain
12.4 The emergence of a business model for smart grids
12.5 Regulation can assist in the emergence of SmartGrids
12.6 The business models are yet to be created
12.7 The standardization of SmartGrids
12.8 Conclusion
List of authors
Index
See More
More in this series