A Practical Guide to Engineering Failure Investigation
ISBN: 978-1-86058-086-4
272 pages
March 1998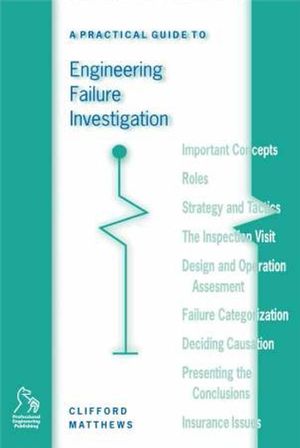 A Practical Guide to Engineering Failure Investigation
has been written with the specific purpose of helping those involved in serious engineering failures. When mechanical plant fails, the technical, legal and contractual issues become very involved and complicated, and deciding causation can be difficult and prolonged. The principles and methodologies explained here will help
engineers to link their technical knowledge to the commercial realities of working with insurers, loss adjusters and their representatives.
This book is essential reading for consultants, expert witnesses and all engineers who may become involved in commercial failure investigations.
CONTENTS INCLUDE:
How to use this book

Professional roles and responsibilities

Strategy and tactics of failure investigation

The inspection visit

Doing a design and operation appraisal

Mechanisms of failure

Deciding causation

How to present your conclusions

Insurance investigations – deferring failure 'events' and proximate cause – subrogation.
See More
Acknowledgements ix
Preface xi
PART I
Chapter 1 About this book 3
Failure investigations - for what purpose? 4
An effective approach 5
Using the book 6
A reminder - your product 7
Chapter 2 Important concepts 9
Types of investigation 9
Core content 11
The damage/causation framework 'model' 12
Key point summary 25
Chapter 3 Roles 27
Investigation - opposing roles 28
A closer look - offence and defence 29
Professional responsibilities 31
The role of money 35
Victory and defeat 36
Key point summary 39
Chapter 4: Strategy and tactics 41
Strategy 42
Tactics 44
Basic skills 54
Key point summary 67
Part I Rewind 69
PART II
Introduction 75
Chapter 5 Getting started - The inspection visit 77
Preliminaries - preparing for the visit 77
First contact - asking and listening 83
Some early ideas 86
Next step - the investigation plan 87
Summary - before you leave 90
Key point summary 93
Chapter 6 Design and operation assessment 95
Design assessment 97
The operation assessment 121
Key point summary 131
Chapter 7 Categorization 133
Categorization -v- causation: the difference 133
Paradox: the role of materials science 134
Failure categories 136
The next step 165
Key point summary 167
Chapter 8 Deciding causation 169
About causation 169
Decisions 170
Causation statements - structure 171
Proximate cause 187
Key point summary 195
Chapter 9 Presenting your conclusions 197
The written report 199
The verbal presentation 206
The dispute 208
Basic skill blocks 212
The dispute 'routine' 214
The radial fan case study dispute 219
Key point summary 225
Chapter 10 Insurance investigations 227
The principles of insurance 228
The insurance investigation 236
Back to the case study 244
Key point summary 249
Conclusion 251
Meanwhile, back in the office 253
References 255
Bibliography 256
Index 257
See More