Power Transmission and Motion Control: PTMC 2003
ISBN: 978-1-86058-414-5
358 pages
October 2003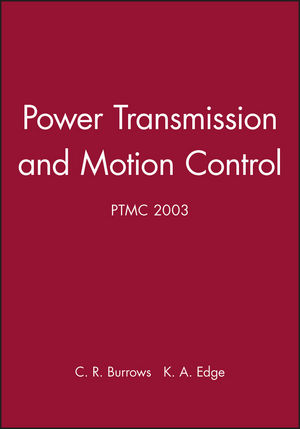 A collection of 25 papers from the fifth international Power Transmission and Motion Control Workshop, that was held at the University of Bath in September 2003.
The focus of the volume is principally on motion control systems, with an emphasis on hydraulic and pneumatic systems and components as the means of power transmission. 
The book will be of considerable interest to researchers and practitioners concerned with mechatronics, and drive systems and their control. 
 Contents include:
A statistically-based fault detection technique for single-stage electro-hydraulic proportional valves
Catalytic effects of copper on the oxidation of ester-based lubricants
Effect of model characteristics on numerical results for a hydraulic high-pressure nozzle system
The effect of parameter uncertainty on the response of a pressure compensated mobile valve
Closed loop velocity control of a small teleoperated hydraulic machine
Active structural control using hydraulic actuator
Stabilization of a hydraulic steering unit OSPF
FMECA of an offshore man-riding winch
A new approach to predict the load carrying ability of the gap between valve plate and cylinder block
Development of ceramic pistons and slippers for radial piston pumps
See More