Voice Disorders and their Management, 3rd Edition
ISBN: 978-1-86156-186-2
420 pages
March 2009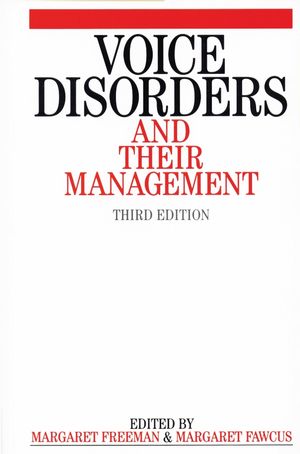 This book describes the problems that people can experience with their voices, either by vocal misuse, psychological and physical stress, laryngeal pathologies or neurological disorders. Chapters are contributed by clinicians who have special interest and expertise in voice disorders and their management and treatment. Two strong themes are clearly identifiable in each chapter: the first is the emphasis on the physiological aspects of phonatory dysfunction, and the second is the recognition that vocal impairments can have significant social and psychosocial consequences. Many of the contributors have also addressed issues such as evidence-based practice, efficacy and the outcomes of intervention. With each new edition of this book, the chapters have grown larger. Most original chapters have been rewritten or substantially updated, and several new chapters have been added by expert practitioners in the US, the UK and Australia. The editors have produced a balanced volume which will continue to be a useful reference text for all those practitioners and students who are involved in voice care.
See More
The Physiology of Phonation, Robert Fawcus.
Voice Development and change Throughout The Life Span, Margaret Freeman.
Surgical Management of laryngeal Disorders, Andrew Johns.
The Causes and Classifications of Voice disorders, Margaret Fawcus.
The Speech and Language Therapist's Assessment of the Dysphonic Patient, Paul Carding.
Children With Voice Problems - a perspective on Treatment, Moya Andrews.
Voice Disorders Associated With hyperfunction, Jennifer Oates.
Psychogenic, Psychological and Psychosocial issues in Diagnosis and Therapy, Margaret Freeman.
Voice Problems of Speakers with Dysarthria, Lorraine Ramig.
Vocal Fold Paralysis - Paresis - Immobility, janina Casper.
Spasmodic Dysphonia Redefined - Diagnosis, Assessment and treatment, Renata Whurr.
Managing Voice With Deaf and Hearing Impaired speakers, Sheila Wirz.
Mutational Disorders of Voice, Robert Fawcus.
The Voice of The Transsexual, Judith Challoner.
Post Radiotherapy Voice Quality, Eva Carlson.
Voice Care for The Professional Voice User, Stephanie Martin.
Phonosurgery, Marc Bouchayer and Guy Cornut.
The Multidisciplinary Voice clinic, Sara Harris et al.
See More