Introduction to Augmentative and Alternative Communication, 2nd edition
ISBN: 978-1-86156-187-9
Paperback
376 pages
November 2006
US $98.99

Add to Cart
This price is valid for United States. Change location to view local pricing and availability.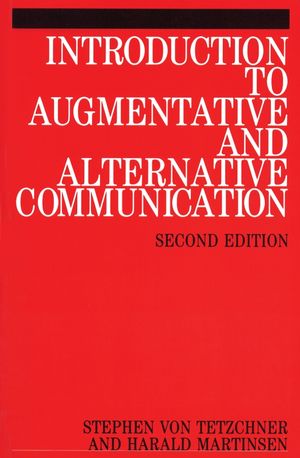 This is a Print-on-Demand title. It will be printed specifically to fill your order. Please allow an additional 2-3 days delivery time. The book is not returnable.
Preface.
Chapter 1 Introduction.
Terminology.
Notation.
Chapter 2 Augmentative and alternative communication.
Manual Signs.
Graphic Signs.
Blissymbols.
Pictogram Ideogram Communication.
Picture Communications Symbols.
Rebus.
Lexigrams.
Sigsymbols.
Pictures.
Orthographic script.
Tangible signs.
Premack's word bricks.
Tactile signs.
Choosing a sign system.
Manual, graphic or tangible signs.
Use of the systems.
Manual signs.
Graphic signs.
Tangible signs.
Chapter 3 Communication aids.
Traditional aids.
High-technology aids.
Artificial speech.
Telecommunication aids.
Pointing.
Keyboards.
Switches.
Choosing a communication aid.
Mobility.
Direct selection and scanning.
Manual and electronic aids.
Some characteristics of aided communication.
Articulation.
Time.
The role of the conversational partner.
Chapter 4 Children, adolescents and adults in need of augmentative an alternative communication.
Three functional groups.
The expressive language group.
The supportive language group.
The alternative language group.
The most common groups in need of augmentative and alternative communication.
Motor impairment.
Developmental language disorders.
Learning disability.
Autism.
Rett's syndrome.
Some common problems.
Learning takes time.
Generalisation.
Learned passivity and dependency on others.
Behavioural disorders.
Chapter 5 Assessment.
The need for toal intervention.
Assessment methods.
Tests.
Checklists.
Information from those in contact with the individual.
Systematic observation.
Experimental teaching.
Basic information.
Overview of the day.
General skills.
Interest in objects, activities and events.
Attention and initiation of communicative contact with others.
Self-help skills.
Self-occupancy.
Motor skills.
Vision and hearing.
Diagnosis.
The family's need for support, relief and help.
Language and communication.
Use.
Comprehension.
Evaluating the language intervention.
Specific goals
Generalized effects.
Information transfer when changing schools, work and home.
Defining areas of responsibility.
Chapter 6 The teaching situation.
Joint attention.
Designing the teaching situation.
Planning for generalization.
Duration and location of teaching sessions.
Structuring.
Frame structure.
Situational structure.
Cues.
Initiating the intervention.
The effect of sign teaching on speech acquisition.
Chapter 7 Teaching strategies.
Structured overinterpretation and total communication.
Implicit and explicit teaching.
Comprehension and use of signs.
Teaching comprehension.
Natural situations.
Special training.
Teaching sign use.
Watch, wait and react.
Reacting to habitual behaviour.
Build-and-break chains.
Reacting to signal-triggered anticipatory behaviour.
Fulfilling wants.
Focusing on expression and comprehension.
Incidental teaching.
Structured waiting.
Naming.
Structured and unstructured situations.
Preparatory training.
Eye contact.
Gaze direction and attentiveness.
Sitting still.
Behaviour chains.
Imitation.
Motor skills.
Facilitating techniques.
Chapter 8 Choosing the first signs.
Exisiting communication.
General and specific signs.
Repetitions.
Motor skills.
Perception.
Iconicity.
Manual signs.
Graphic signs.
Tangible signs.
Simple and complex concepts.
What to expect.
Chapter 9 Further vocabulary development.
Alternative and supportive language groups.
Contrasts between signs.
Signs for proper names.
Expanding use.
Individual sign dictionaries.
The expressive language group.
User involment.
Expanding the situations in which signs may be used.
Increased access to signs.
Expanding the vocabulary by using sign combinations.
Ready-made vocabularies.
From graphic signs to orthographic script.
Chapter 10 Multi-sign utterances.
Vocabulary.
Pivots.
Verb island constructs.
New sign categories.
Inflections.
Sentences.
Horizontal and verical structures.
Topic-comment.
Semantic roles.
Negation.
Fill-in.
Chaining.
Ready-made sentences.
Cognitive effort.
Comprehension.
Bootstrapping.
Perspective.
Comprehension of spoken language.
Variation.
Chapter 11 Conversational skills.
Alternative language group.
Routines,plans and scripts.
Supportive language group.
Expressive language group.
Environmental strategies.
Partner strategies.
Conversational strategies.
Narratives.
Chapter 12 The language environment.
Adapting the environment.
The simultaneous use of speech and signs.
Simplified language.
Models.
Teaching families.
Teaching peers and friends.
Cost and benefit.
Chapter 13 Overview of case studies.
List of sign illustrations.
References and citation index.
Index.